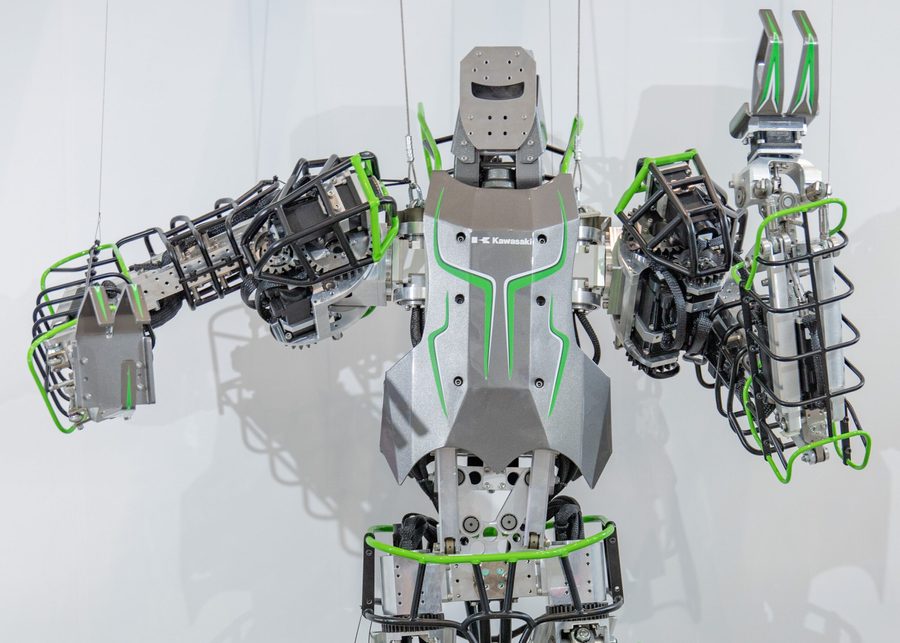 Humanoid Robot "Kaleido" will be exhibited at Kawasaki Robostage from 1st June, 2020.
「"Kaleido" is a humanoid robot that has been jointly developed and researched by Kawasaki Heavy Industries, or Kawasaki, and the University of Tokyo. It debuted in December of 2017 at "International Robot Exhibition 2017". Two years after its debut, at "International Robot Exhibition 2019", an upgraded "Kaleido" has been introduced.  It performed walking on a treadmill and removing obstacles to rescue a victim at a disaster recovery situation.
「Kale"Kaleido" has high durability that utilizes Kawasaki's technology nurtured from Kawasaki'50-year history in the field of industrial robots. The robot is about 180cm tall and weighs about 85kg. While having a similar physique as a human, it is featured by a tough structure that does not break easily even if it falls. It is developed with the aim of practical use in disaster relief and nursing care etc.
This display at Kawasaki Robostage will be the first permanent exhibition since its debut in 2017.
Please take a closer look at the humanoid robot "Kaleido" that you could only see in limited occasions before.
※"Kaleido" will be a static display. Please understand there is no demonstrations in motion.
※The exhibition contents may be canceled or changed without notice due to unavoidable circumstances.
Kawasaki's branding website XYZ introduces "Kaleido" in detail. Please visit the following web pages to explore:

"Exploring Robots' Future with the New Model of Humanoid Robots"
https://robotics.kawasaki.com/ja1/xyz/en/1711-01/
"To Be the iPhone of the Robot Industry—With 50 Years of Robot Experience, Kawasaki Is on the Move"
https://robotics.kawasaki.com/ja1/xyz/en/1712-01/
"What Kawasaki Aims for Beyond the Development of Humanoid Robot"
https://robotics.kawasaki.com/ja1/xyz/en/1912-01/index.htm
"Two Years On from Its Debut, How Kawasaki's Robust Humanoid Robot Evolved"
https://robotics.kawasaki.com/ja1/xyz/en/1912-02/index.htm
About Kawasaki Robostage
□Opening Hours
Mon to Fri: 13:00-18:00
Sat, Sun, National Holidays: 10:00-18:00
※Tue : Closed, Open when it falls on a national holiday
□Admission : Free
□Website:https://robotics.kawasak.com/ja1/robostage/en.html
□Contact:Kawasaki Robostage
1F Tradepia Odaiba, 2-3-1 Daiba, Minatoku, Tokyo
TEL: +81-3-6457-2800