Kawasaki Heavy Industries was one of the first companies to manufacture and sell industrial robots in Japan, the world's predominant robot manufacturing country. Since the launch of the Kawasaki-Unimate 2000 industrial robot in 1969, Kawasaki's robot technology has contributed to industrial development in Japan and worldwide. Kawasaki robots are the culmination of more than a half-century of our expertise and engineering capabilities.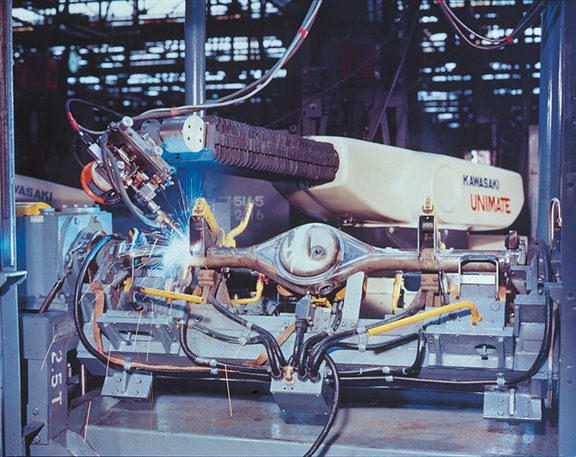 Kawasaki Heavy Industries was the first company in Japan to domestically manufacture industrial robots. With the development of the automotive industry, the company greatly helped to improve manufacturing productivity and quality and became a forerunner in Japan's robot industry.
Unparalleled expertise in robot technology development
Starting with shipbuilding in the Meiji era (1868-1912), Kawasaki Heavy Industries has been actively engaged in innovative manufacturing, including steam locomotives, aircraft, hydraulic equipment, automobiles, motorcycles, and gas turbines. As an all-around heavy industry manufacturer, we have cultivated fundamental technologies, engineering capabilities, and the DNA of an innovator – all of which are epitomized in Kawasaki robots.
In addition, our Technology Development Headquarters, a think tank for the entire Kawasaki group, is actively developing cutting-edge technologies such as artificial intelligence (AI) and IoT/ICT. New solutions are also emerging. Our autonomous underwater vehicle (AUV) and K-Repros, an AI-powered resource sorting support system, are the results of our combined technology acquired from robotics development with advanced technologies. The technology of a comprehensive engineering company fosters robots, and the technology created by robots is also helping to innovate new manufacturing.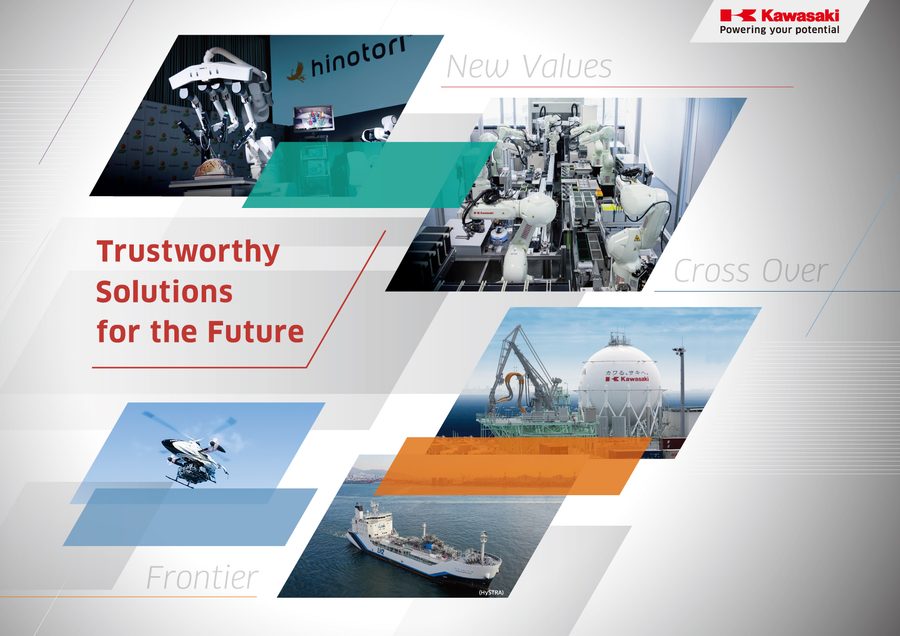 Kawasaki Heavy Industries is applying the vast knowledge, technologies, and engineering capabilities cultivated through extensive manufacturing to robot development. The technologies acquired through robot development are also being applied to a wide range of fields, leading to the creation of new solutions.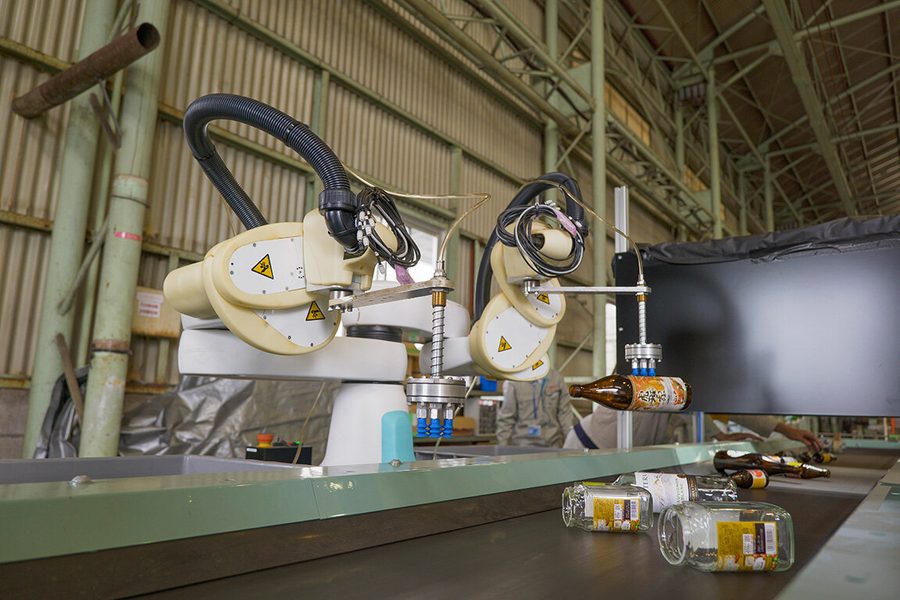 K-Repros, an AI-powered resource sorting support system using the human coexistence collaborative robot "duAro". K-Repros was born of a technological synergy that combines Kawasaki Heavy Industries' longstanding expertise in designing and operating waste treatment facilities, robotics, and AI technologies.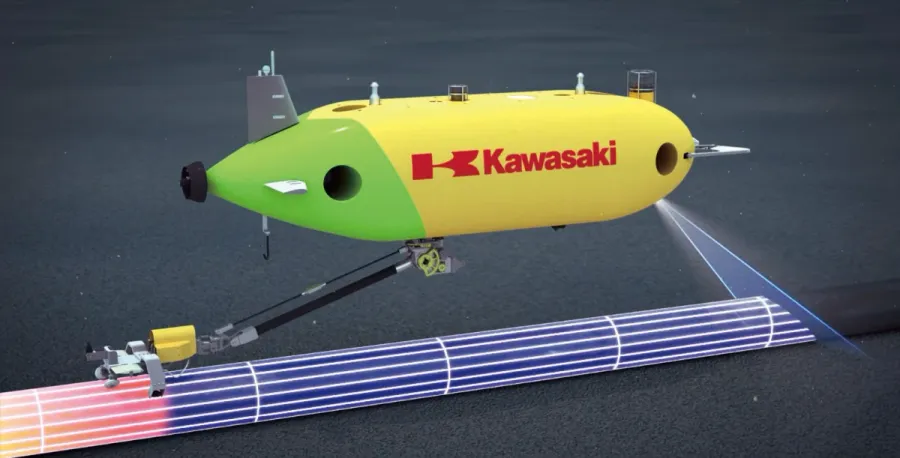 Robots and submarines. SPICE, the world's first AUV equipped with a robotic arm, was developed based on a fusion of our submarine technologies and industrial robot technologies. As a "Subsea Inspector," the AUV is responsible for performing subsea pipeline maintenance and inspections.
Comprehensive customer support to cover the entire life-cycle of a robot, from installation to operation
Kawasaki Heavy Industries is a robot manufacturer, but also a robot user. By deploying Kawasaki robots in our diverse manufacturing sites, we are able to verify usability and make improvements from the user's perspective. Another feature of Kawasaki Heavy Industries is that it has a function of a system integrator within the company. This allows us to look at robots as systems rather than individual components.
The deployment of a robot system does not end with the installation. Support and follow-up services, including regular maintenance and inspections, responding to problems, improvements, and overhaul, are essential for long-term reliable use. In 1986, Kawasaki Heavy Industries established Kawasaki Robot Service Co., Ltd. (formerly Kawasaki Robotics, Ltd.), a company specializing in system upgrades, maintenance, and after-sales services. Our team of experts will be there for you throughout the life of your Kawasaki robot, from installation to operation, maintenance, and renewal, ensuring reliable operation.
Related Pages