Available in a diverse lineup, Kawasaki's large general-purpose B series robots are used in various industrial environments, including automotive, aerospace, machinery, metal, electrical, electronics, and food sectors.
This highly versatile series can be used for a wide range of applications, including assembly, material handling, and spot welding.
BX/BT series
■ Built-in cables and hoses.
■ Slim design and small footprint for high-density installation.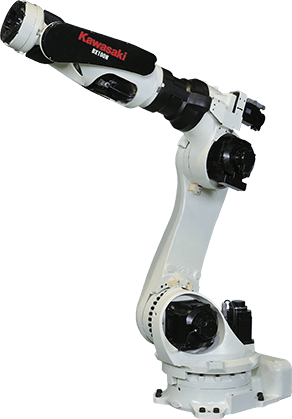 BX100N
Payload 100kg
Max. Reach 2200mm
Applications Assembly, Material Handling, Spot Welding
Robot Category Large robots up to 300kg payload
Mounting Floor
Series BX/BT series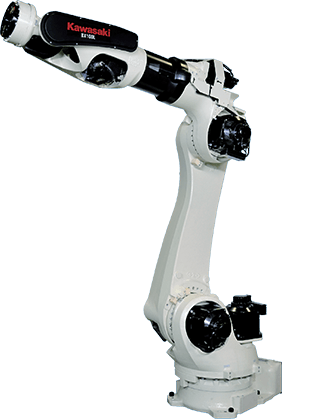 BX100L
Payload 100kg
Max. Reach 2597mm
Applications Assembly, Material Handling, Spot Welding
Robot Category Large robots up to 300kg payload
Mounting Floor
Series BX/BT series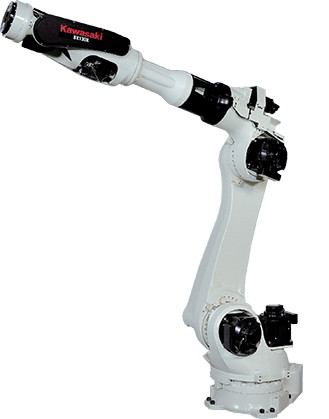 BX130X
Payload 130kg
Max. Reach 2991mm
Applications Assembly, Material Handling, Spot Welding
Robot Category Large robots up to 300kg payload
Mounting Floor
Series BX/BT series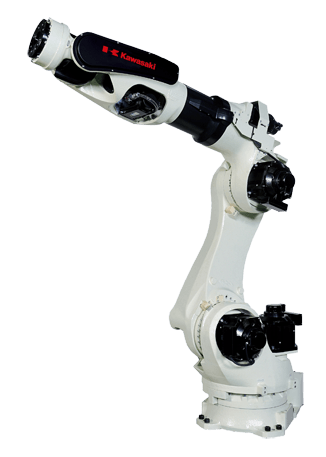 BX165N
Payload 165kg
Max. Reach 2325mm
Applications Assembly, Material Handling, Spot Welding
Robot Category Large robots up to 300kg payload
Mounting Floor
Series BX/BT series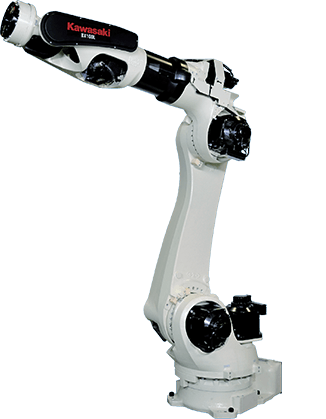 BX165L
Payload 165kg
Max. Reach 2597mm
Applications Assembly, Material Handling, Spot Welding
Robot Category Large robots up to 300kg payload
Mounting Floor
Series BX/BT series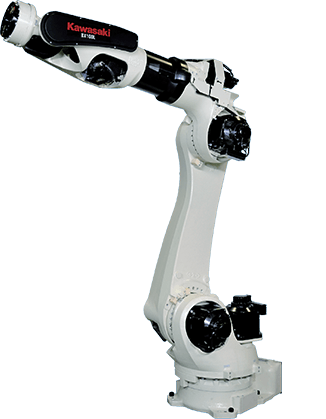 BX200L
Payload 200kg
Max. Reach 2597mm
Applications Assembly, Material Handling, Spot Welding
Robot Category Large robots up to 300kg payload
Mounting Floor
Series BX/BT series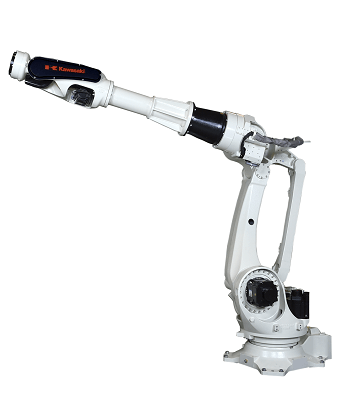 BX200X
Payload 200kg
Max. Reach 3412mm
Applications Assembly, Material Handling, Spot Welding
Robot Category Large robots up to 300kg payload
Mounting Floor
Series BX/BT series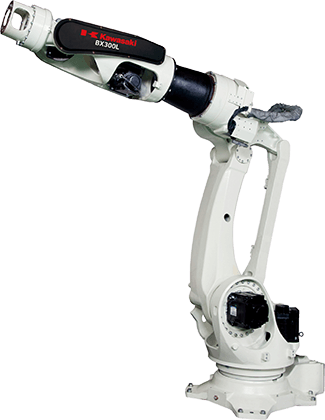 BX250L
Payload 250kg
Max. Reach 2812mm
Applications Assembly, Material Handling, Spot Welding
Robot Category Large robots up to 300kg payload
Mounting Floor
Series BX/BT series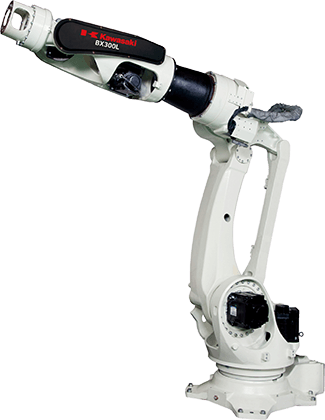 BX300L
Payload 300kg
Max. Reach 2812mm
Applications Assembly, Material Handling, Spot Welding
Robot Category Large robots up to 300kg payload
Mounting Floor
Series BX/BT series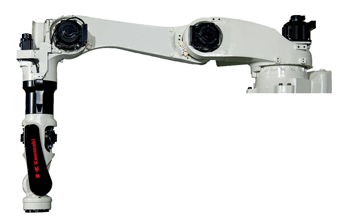 BT200L
Payload 200kg
Max. Reach 3151mm
Applications Assembly, Material Handling, Spot Welding
Robot Category Large robots up to 300kg payload
Mounting Shelf
Series BX/BT series
ZX series
■ Wide range of applications for every industry.
■ Suitable for harsh environment thanks to wrist motors located at the shoulder.
■ Wide motion range of 360°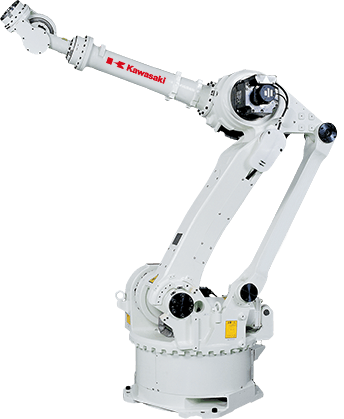 ZX130S
Payload 130kg
Max. Reach 2651mm
Applications Assembly, Material Handling, Spot Welding
Robot Category Large robots up to 300kg payload
Mounting Floor
Series ZX series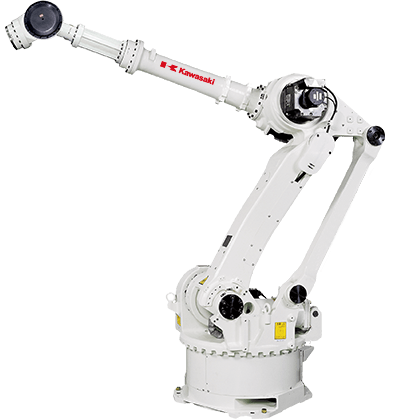 ZX130L
Payload 130kg
Max. Reach 2951mm
Applications Assembly, Material Handling, Spot Welding
Robot Category Large robots up to 300kg payload
Mounting Floor
Series ZX series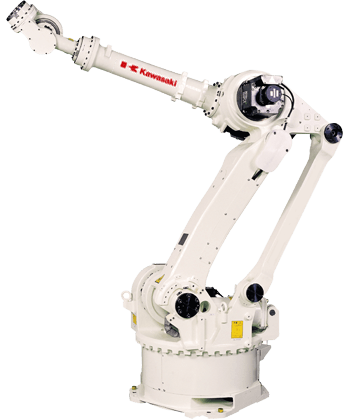 ZX165U
Payload 165kg
Max. Reach 2651mm
Applications Assembly, Material Handling, Spot Welding
Robot Category Large robots up to 300kg payload
Mounting Floor
Series ZX series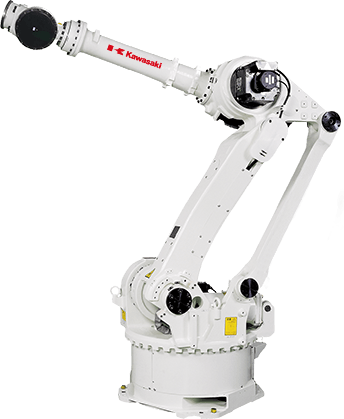 ZX200S
Payload 200kg
Max. Reach 2651mm
Applications Assembly, Material Handling, Spot Welding
Robot Category Large robots up to 300kg payload
Mounting Floor
Series ZX series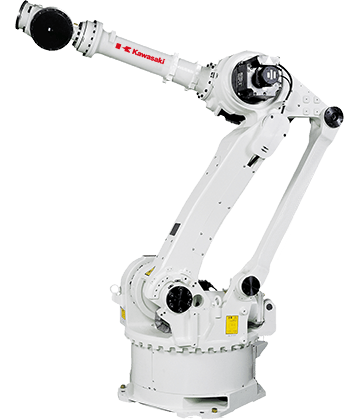 ZX300S
Payload 300kg
Max. Reach 2501mm
Applications Assembly, Material Handling, Spot Welding
Robot Category Large robots up to 300kg payload
Mounting Floor
Series ZX series