"What tasks can we leave to the robot?" "What steps do we need to take?" "Who can we talk to and get some advice?" When it comes to actually deploying a robot, many companies are unable to go forward from square one. Here are some of the basic steps you'll need to take to successfully deploy a robot and maximize its capabilities to achieve desired outcomes.
1. Identify the problems you want to solve with robots
The first important step to adopting automation is to identify what issues you want to solve. Companies can maximize the benefits only by allocating the right resources, whether its people, robots, or specialized machines, in the right places for the right tasks. The first thing to consider is whether robots are really necessary.
People, robots, and specialized machines all have their own strengths and weaknesses. In order to maximize the robot's capabilities, it is important to determine which tasks are most effectively delegated to the robots.
2. Gather information
Industrial robots come in a wide variety of types and are constantly evolving. The best way to catch up with the latest information and get an idea of how to introduce a robotics system while referring to your industry's case examples is to check out exhibitions where many robot manufacturers and SIers gather together, such as the International Robot Exhibition. In recent years, more exhibitions have been held online, thus accessing information from around the world has become easier. The robot manufacturers' websites and the official site of the International Federation of Robotics also provide a wealth of technical information and application examples.
3. Consult with SIer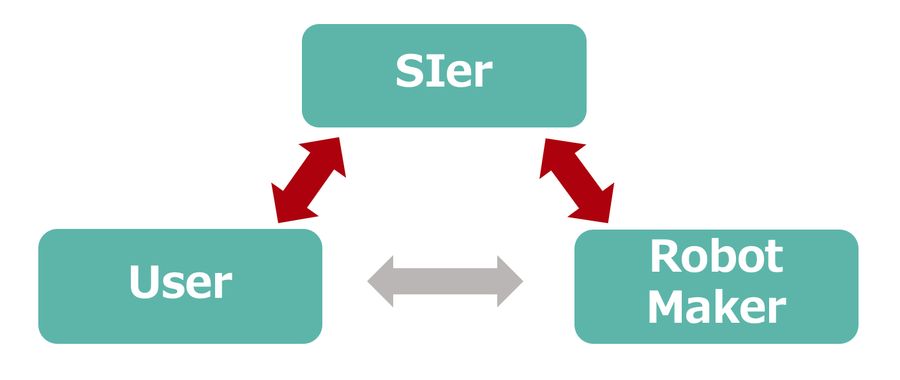 Every end-user has their own unique expertise, style, production technology, and methods that have been cultivated over the years. When adopting automation, it is desirable to deploy a "one-size-fits-all" robot system that is tailored to each site. This is where robotic system integrators (SIers) come in. They are engineering companies specialized in conceptualizing, designing, and building robotic systems. They are experts in creating the best automation system for the site by combining robots with peripheral equipment or specialized machines. Building the best automation system for your company requires a collaborative effort between the robot manufacturer, the system integrator, and the robot user.
In general, the SIer interacts between the user and the robot manufacturer, acting as a liaison between them, and leads the way to system installation. Kawasaki Heavy Industries is a valuable robot maker that can even play the role of a robotic system integrator.
4. Steps to deployment with SIer
Here is an example of a basic process flow from the deployment of a robot to the completion of automation.
First, it is essential for the SIer, who conceptualizes the robotic system, to gain a better understanding of the site and the end-users' needs. The SIer will conduct meetings and thorough on-site inspection and survey. During the meetings, it is good to share basic requirements such as budget, schedule, variety, workspace, and takt time, along with other detailed information that may seem insignificant. The next step is to discern which processes can be automated. Determine which processes are suitable for robotization in terms of efficiency, productivity, cost-effectiveness, and what process comes before and after. Once you identify which process to automate, the process must be broken down into work elements. For humans, the process may be a series of tasks. But in the case of a robot, it is necessary to subdivide each task into smaller steps and program them as individual actions. At the same time, the work conditions around the robot system, such as workpiece flow, workspace, and utilities, must be checked. Once the overall blueprint of the robot system is established, its operation and capabilities are validated, and a risk assessment is conducted. Then, once the manufacturing and the programming of the robot system are completed, it goes through pre-shipment testing, installation in the actual workspace, and testing period before going into operation.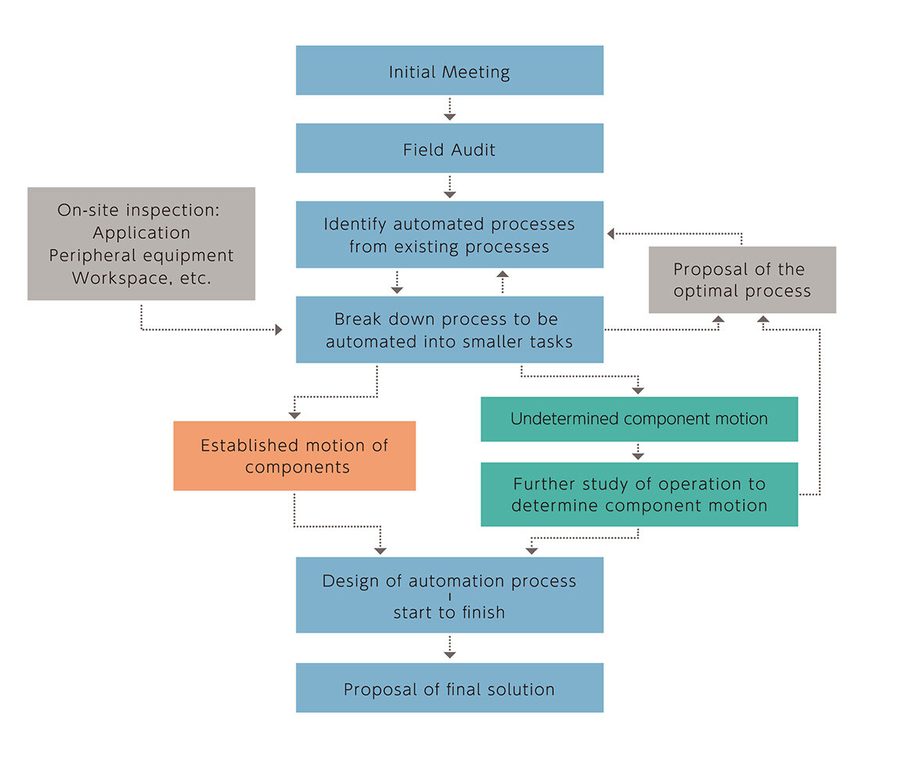 When presenting a robot system, it is critical to have a thorough awareness of user needs as well as site conditions. Even after the production of the system is completed, detailed testing and verifications are performed prior to shipment and installation, including single-action tests and coordinated movement tests for the entire unit.
5. Critical follow-up system after installation
Even after the successful deployment of a robot system, collaboration between the robot manufacturer, SIers, and the users will continue. Meticulous follow-up service after the installation is essential for the system, including regular maintenance and inspections, responding to problems, recovery support in case of failures, updates, and specification changes. In 1986, Kawasaki Heavy Industries established Kawasaki Robot Service Co., Ltd., a company specializing in after-sales services. To provide end-users with extensive follow-up services, its dedicated call center and a 24-hour help desk are available to answer any questions end-users have after installation.
Related Pages