Kawasaki Robotics Americas hosted students from Oakland County, Michigan, with a presentation on robotic automation and a tour of our headquarter facilities as part of Manufacturing Day, an initiative aiming to showcase the potential of modern manufacturing and foster interest in manufacturing careers.
During the tour of the Kawasaki facility, the group of high school students got to see a wide range of application demos, including palletizing of pet food bags, assembly of automotive plastic parts, and arc welding of multiple brackets to a heavy truck cab assembly. A highlight of the tour was the time spent in the Training Center where students got to experience the robots first hand, getting the opportunity to make robots move following a short programming lesson.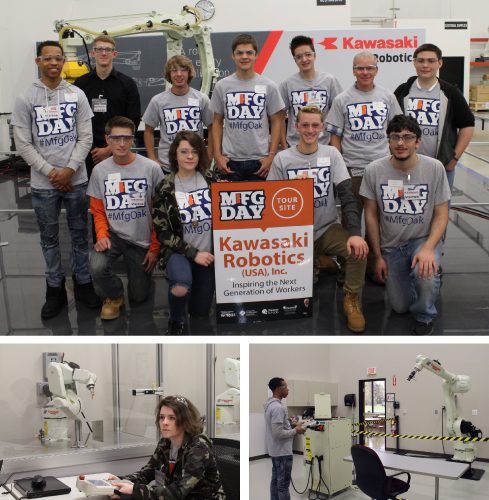 Kawasaki Robotics was honored to have the opportunity to open its doors to the public in celebration of Manufacturing Day to draw attention to the present-day reality that manufacturing environments include highly trained, well-paid employees who work on state-of-the-art equipment; hopefully encouraging job seekers to develop the skills they need to qualify for long-term careers in this secure and growing sector of the economy.