Routine maintenance and upkeep are crucial to extending the life of your robot. Our Service & Support teams provide fast yet thorough analysis to minimize downtime and optimize system availability. Whether you require field service, refurbishment, repair or spare parts, our experienced technicians are here to help protect and preserve your automation investment.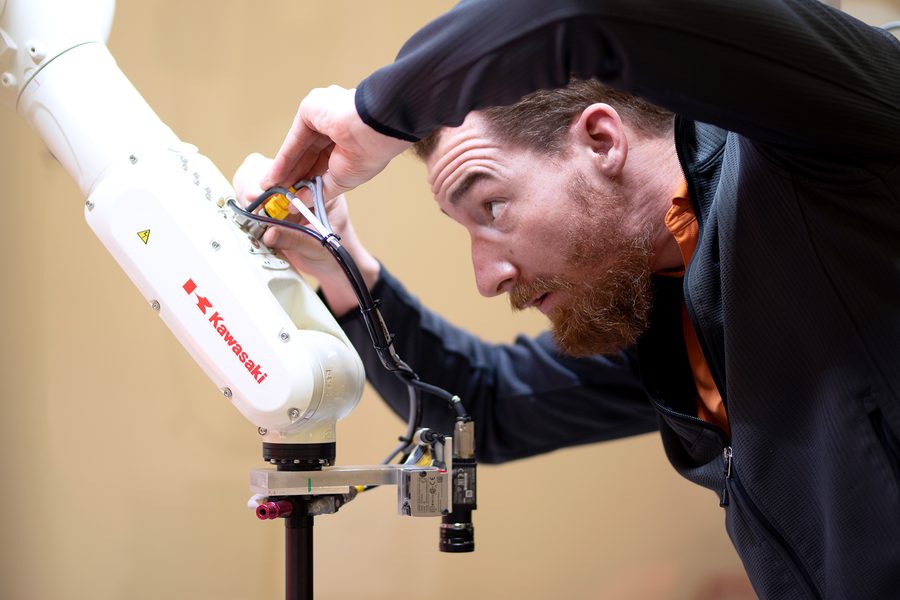 SUPPORT HOTLINE:
+49 (0) 2131 – 3426 – 1300
FIELD SERVICE
Our customers' trust is our biggest value. That's why the Kawasaki Field Service team is transparent about what's going on with your robot and works with you to find the simplest solution. We try and solve the problem remotely – a complimentary service for all customers. If the issue needs to be resolved in person, then a highly trained and experienced Service team member will travel to your facility.
PREDICTIVE MAINTENANCE
Maintenance is an unavoidable part of robot ownership, but unexpected maintenance should not be. That is why we developed our failure prediction software, TREND Manager, which helps companies avoid unexpected downtime. TREND Manager automatically and continuously analyzes status data from your robot to detect signs of wear, predict impending malfunctions and the need for inspection.
REPAIRS & REFURBISHMENT
Repairs and refurbishment are cost-effective ways to extend your robot's lifetime. Our team is transparent about what repairs are needed and strives to find the simplest solution. If you aren't sure if refurbishment is necessary, our technicians can perform an on-site assessment and recommend next steps. All repaired parts receive the latest component improvement updates and undergo functionality testing under load.
SPARE PARTS
Kawasaki's experienced Spare Parts team is here to make sure you have the necessary components to keep your robots running smoothly. Using their extensive knowledge, they will advise you on the parts to order based on your robot and application. They can also provide personalized spare parts programs for your facility and assist with managing inventory.