The duAro robot has been released in Asia.
The Americas and Europe product launches are scheduled for June 2016, to allow for safety requirements for collaborative operation with humans in those marketplaces to have been met. Until then, the duAro robot can be operated in conformance with local robot safety standards and regulations including safety fence.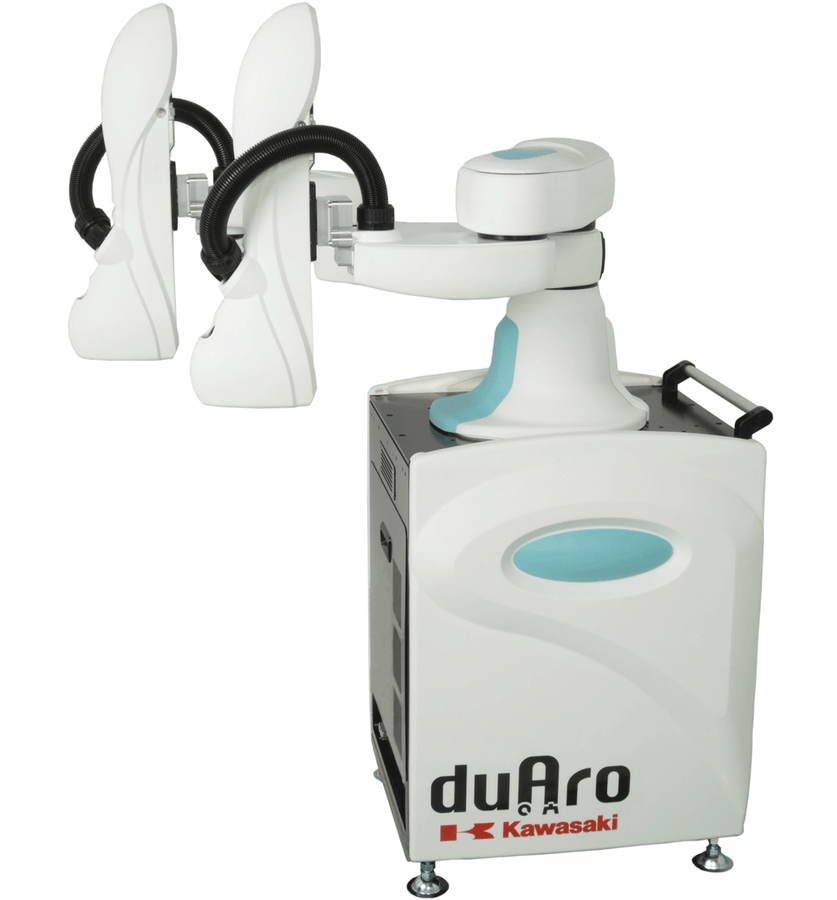 Kawasaki Robotics has announced today that it has launched the "duAro" -an innovative & new, dual-arm SCARA robot that can coexist with humans in the workplace.

Industrial robots have been developed and intended mainly for mass production involving long product life cycles. However, in fields where new models are introduced frequently at intervals of a few months, automation is considered difficult despite demand for robotization, in terms of both preparation period and cost-effectiveness. Today, Kawasaki offers a brand-new robot that is applicable to such fields.

The new "duAro" robot's area of motion is the same as that of a person, with motions similar to those of human arms and independent movements for each arm, made possible because of its dual-arm configuration. Through our consistent pursuit of ease of use, we integrated two articulated arms that move simply in the horizontal direction, and we introduced direct teaching functionality into the robot's configuration, resulting in a robot that's both easy to teach and practical. With the integration of the body and controller into the wheeled base, the robot is quite easy to install and relocate.

The robot has two arms that reach horizontally from the body and that move together as a pair. This configuration can easily perform operations similar to those of a person using both arms within a one-person space. Equipped with a collision detection function and a safety function that slows down its motion when near a person, the robot can be reliably operated in tandem with the operations of workers adjacent to the machine.

The name of the dual-arm robot, "duAro," is a combination of two English words-dual and robot. With this name, we intend to highlight the concept of a dual-arm machine that can provide users with a sense of reliability, security, and approachability.
1.Features
Saves space (fits into a single-person area)
While the arrangement of two conventional SCARA robots occupies a relatively large space, the "duAro" robot, integrating two coaxial arms and a controller into a single unit, occupies only a single-person space. Additionally, its coaxial dual-arm structure makes the two arms less prone to interfere with each other, making it possible to perform coordinated movement, which has not been possible in the case of using two SCARA robots.
Ease of introduction
The wheeled base on which the arms are mounted accommodates the controller, making it easy to move and install the robot at any location. Its dual-arm operations also make it easy to support operations without jigs or to replace it with other robots and/or people. This enables the user to launch systems more quickly than conventional systems, which often take excessive time when changing production lines, as well as to quickly respond to restarts after an emergency stop.
Coexistence with people in the workplace
Low-power motors and a deceleration function linked with an area-monitoring enable the "duAro" to coexist with people during work operations. The "duAro" also comes with numerous safety functions, including a collision detection function that instantaneously stops the robot's movement in response to a possible person-robot collision.
Ease in teaching operation
Products with short life cycles entail frequent changes of programs and teaching, heightening the hurdle of robotics introduction. We thus adopted a simple horizontally articulated structure and direct teaching functionality to simplify teaching as much as possible. Anyone can perform the teaching movements easily.
Various options
In addition to direct teaching, teaching operations can be conveyed via tablet or teaching pendant. Also, multiple robots can be configured with a single terminal. A "duAro" robot can also be equipped with a vision system. A standard grippers option is also available, allowing the user to customize the specification of the arms, including the arm length and the number of rotating axes, in order to configure the arms in a way that fits with various necessary operations. In the future, the "duAro" will support clean specifications and a single-arm configuration, covering a wide range of applications.人一人分のスペースに
2.Main Specifications
| | |
| --- | --- |
| Series name | duAro |
| Robot name | duAro 1 |
| Model name | WD002N |
| Launch | June 3, 2015 |
| Arm type | Horizontal articulated |
| Degree of free movement | 4 axes x 2 (Max. 6 axes x 2) |
| Standard reach | 760 mm |
| Max payload | 2 kg/arm |
| Repeatability | ±0.05 mm |