Kawasaki Launches Two New Series of Robots
Tokyo, 1 October, 2015 – Kawasaki Heavy Industries, Ltd. announced today that it will launch three new series of robots — the high-speed palletizing CP series and the compact arc welding BA series – on 1 March, 2015.
High-speed Palletizing Robots CP-series
Compact Arc Welding Robots BA-series
Developed countries such as Japan are increasingly applying robots to new fields. The demand for robots is expected to keep growing. Meanwhile, other growing markets are adopting robots for automation actively, to improve productivity and quality and to address rising labor costs.
The two series to be launched — CP and BA — are positioned as new series to build on the evolution of previous series, in order to answer the growing global demand for robots. These two series will be launched simultaneously worldwide. They will also support compact, energy-saving controllers to be launched at the same time.
■CP-series : High-speed Palletizing Robots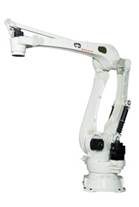 The CP series consists of palletizing robots, to palletize boxes, bags and such in distribution processes. It includes three models, with different payload capacities: 180 kg for the CP180L, 300 kg for the CP300L, and 500 kg for the CP500L. Thus, the CP180L and CP300L each improve over their ZD series equivalents (ZD130S and ZD250S) by 50 kg of payload capacity. Meanwhile, the CP500L model now added has a body 38% lighter than its equivalent in the existing MD series (MD500N). The series also has the fastest throughput in the industry for all payload capacity ranges up to 500 kg. The CP series' wide working range, high throughput, and diverse lineup will help to speed up distribution in all kinds of industries.
1.Features
High Throughput

The series has an enhanced drive mechanism for the Arm rotation (JT1), which is key to speeding up palletizing work. It has the fastest throughput in the industry, 2,050 cycles/h (using the CP180L with a payload of 130 kg). This allows faster process cycles, helping to speed up distribution.

Wide Working Range and High Payload Capacity

The series has a wide working range which supports a stowage range of width 1,800 mm, depth 1,600 mm and height 2,200 mm. Also, there are three different models with payload capacities of 180 kg, 300 kg and 500 kg, so one can select the robot with the payload capacity best suited for the workpieces or grippers.

K-SPARC Palletizing Software (optional)

An operating program can be generated simply on a computer just by selecting the workpiece, pallet, and stowage pattern. Layout planning and operating simulation can also be performed, improving workability.
2.Technische Daten
| | | | |
| --- | --- | --- | --- |
| Product Name | CP180L | CP300L | CP500L |
| Arm Type | Vertical Articulated Type | Vertical Articulated Type | Vertical Articulated Type |
| Degree of Freedom | 4 Axes | 4 Axes | 4 Axes |
| Max. Payload | 180 kg | 300 kg | 500 kg |
| Repeatability | ±0.05 mm | ±0.05 mm | ±0.05 mm |
| Body Weight | 1,600 kg | 1,600 kg | 1,650 kg |
| Throughput*(Load Weight) | 2,050 cycles/h(130 kg) | 1,700 cycles/h(250 kg) | 1,000 cycles/h(500 kg) |
■BA-series: Compact Arc Welding Robots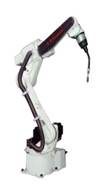 The BA series consists of compact arc welding robots. It adopts the hollow wrist structure which has earned the large B series consistent praise in spot welding. This makes it easier to manage the cables compared to the existing RA series. Also, the arm structure has been optimized for arc welding, making it easy to manage wire feeders and cables and to achieve stable feeding of welding wire.
1.Features
Wide-diameter Hollow Core in Wrist

Adopting the hollow wrist structure proven by the B series, the robot wrist has a hollow core diameter of 45 mm, allowing cables for a variety of welding torches to be passed through.

Arm Structure Optimized for Arc Welding

The centers of the upper arm's length and rotation axis have been separated, allowing wire feeders to be placed in the space behind the upper arm. This is an improvement over their former position above the arm because it largely prevents wire feed cables from being bent excessively and minimizes wire feeders' interference with peripheral equipment during welding.
2.Technical Specifications
| | |
| --- | --- |
| Product Name | BA006N |
| Arm Type | Vertical Articulated Type |
| Degree of Freedom | 6 Axes |
| Max. Reach | 1,445 mm |
| Max. Payload | 6 kg |
| Repeatability | ±0.05 mm |