K-ARC and K-Virtual: Kawasaki Robotics Introduces New Hardware and Software Solutions for Welding Automation
Compact arc welding cell K-ARC Basic and the intuitive 3D simulation tool K-Virtual make the automation of welding processes easier, more flexible and more cost-efficient.
Neuss, September 1st 2020 – Welding automation made easy: With K-ARC Basic and K-Virtual, Kawasaki Robotics is now expanding its robot welding portfolio with new practical hardware and software solutions – also for smaller batch sizes and flexible productions: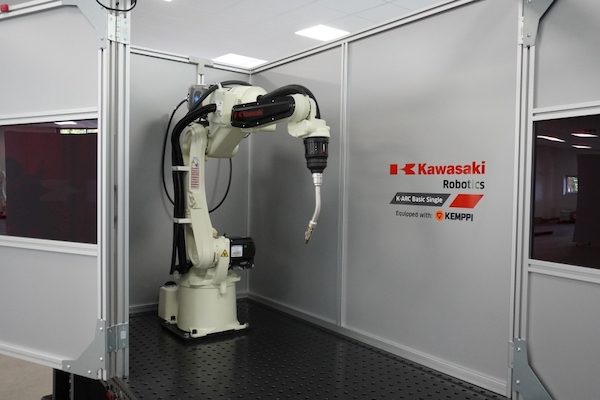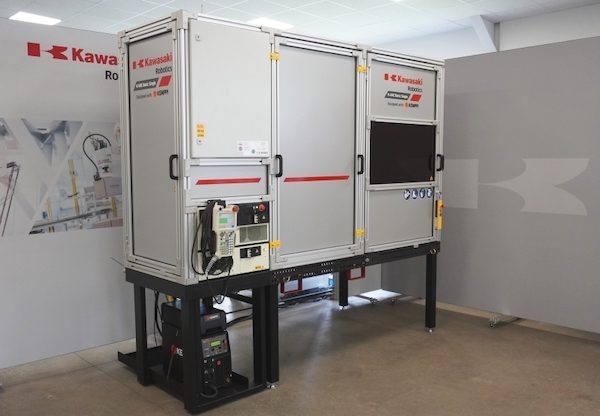 K-ARC Basic: Compact and Plug and Play Welding Cell
Kawasaki Robotics K-ARC Basic Single is a complete turnkey arc welding robot solution, providing everything needed to automate welding processes within a compact cell. Simply set it up and production can begin – no further assembly work is required. It is suitable for MIG and MAG welding and is based on a Kawasaki Robotics BA006N arc welding robot and other high-quality components. The cell is available with the welding equipment of many leading manufacturers, such as Kemppi. The Kawasaki Robotics safety module Cubic-S, a wearing part package and a Siegmund starter kit are included – further options are available as required. K-ARC Basic is robust, flexible and extremely easy to use: Programming and handling of the cell can be learned within just a few hours. This means that maximum welding speed, minimum weld spatter and virtually no need for corrections can be achieved with little effort. K-ARC Basic is therefore the optimal first step into the automation of welding processes, even for small and medium-sized companies.
K-Virtual: Intuitive 3D Simulation Platform for Kawasaki Robots
With the 3D simulation tool K-Virtual, Kawasaki Robotics also offers a new software solution for efficient plant engineering, practical robot simulation and convenient offline programming. K-Virtual is now available in several editions – from Basic to Expert – and optimized for various applications like arc welding. Companies are thus able to fully exploit the full performance capability of their Kawasaki robots within individual automation solutions – from initial installation to reprogramming and plant re-engineering. K-Virtual is based on CENIT's Fastsuite Edition 2 technology and is optimized for use with Kawasaki robots and equipment. Plants of all kinds can be mapped, designed and planned exactly and with the highest precision in K-Virtual. The K-Virtual Arc Edition also makes the programming of paths for arc welding extremely intuitive, automatically optimizes them and reduces the time required to a minimum.
Talk to us!
Sales Team GermanyTel: +49 2131 3426-0
email:sales@kawasakirobot.de