New High-Speed Robot: Kawasaki Robotics Releases RS013N
The latest addition to the successful and versatile R-Series features industry-leading speed, minimum footprint, maximum flexibility and full IP67 classification for both arm and base.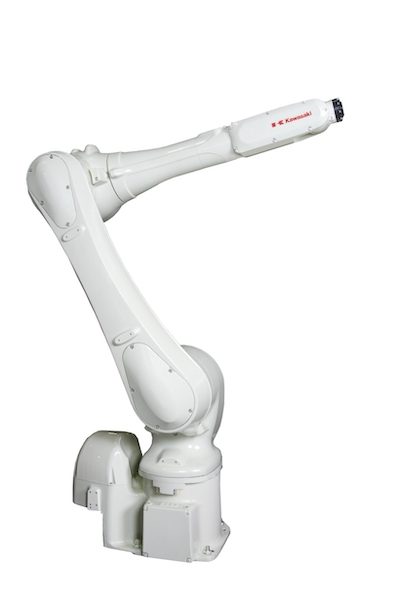 Neuss, October 27th 2020 – With the RS013N, Kawasaki Robotics introduces a new 6-axis robot with a maximum load capacity of 13 kg. The RS013N continues to offer the proven operational advantages of the R Series robots, complemented by a redesigned arm structure and weight reduction of the main unit. These improvements enable the fastest working speeds in this robot class and very high motion ranges. The new Kawasaki robot is optimized for use in numerous industries – including food and clean room applications. It offers excellent functional and environmental characteristics for assembly, material handling, machine loading and multiple other tasks.
Optimized Performance: The RS013N is the Fastest Robot in its Class
The RS013N has a range of 1460 mm – for more flexibility in the design of production systems. The newly designed arm structure and drive system ensure significantly improved maximum speed and acceleration. By adapting the acceleration values to the load and the robot positioning, the RS013N also offers consistently optimized performance with significantly reduced cycle times.
Internal Ethernet Wiring and IP67 Classification
The dust-tight robot RS013N is characterised by completely covered motors and waterproof electrical connections. It offers both IP67 wrist and base classification. The models for floor, wall or ceiling mounting include ethernet wiring within the arm structure – for an easy connection of vision systems and other devices.
The RS013N is available to be ordered on January 4th 2021.