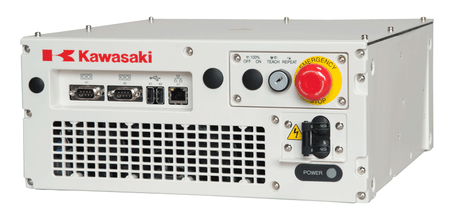 Industry's Most Compact, Lightweight Design
Component integration and size and weight reductions, as well as component layout optimization, have resulted in an approximate 77% reduction in size and 72% reduction in weight for a much more compact overall design. This enables installation in 19-inch racks, stacked installation and other such arrangements, greatly reducing the space required for controller installation. Furthermore, the low 8.3 kg weight makes it easier for a single employee to carry the unit around.
(The above figures are comparisons between the new F60 and the previous E7X series of controllers.)
Industry's Most Compact, Lightweight Design
Component integration and size and weight reductions, as well as component layout optimization, have resulted in an approximate 77% reduction in size and 72% reduction in weight for a much more compact overall design. This enables installation in 19-inch racks, stacked installation and other such arrangements, greatly reducing the space required for controller installation. Furthermore, the low 8.3 kg weight makes it easier for a single employee to carry the unit around.
(The above figures are comparisons between the new F60 and the previous E7X series of controllers.)
Energy Savings
Regenerative energy produced via robot operations is reused to cut down on energy loss, and redesign of components and control reduce electricity consumption by the control circuit. These improvements and others result in a total energy reduction of approx. 10% *1 and contribute toward greater overall energy savings and lower CO2 emissions.
*1 : in our standard motion pattern using the RS010N robot
Universal Support
Formerly, there were different controller specifications to support the respective standards of Japan/Asia, Europe, and the U.S. Now, functional safety technology has been employed to adopt a common safety circuit. The new controllers have common global specifications that support the standards of every country.
Excellent Extensibility
・ The optional Bluetooth interface enables connection using tablets without the need for additional settings/customization
・ Possible to connect to a maximum of four 32-channel I/O units for remote I/O
・ Possible to include external motor control amplifiers for up to two axes and Cubic-S safety monitoring function * 2 inside the compact cabinet
*2 : The cabinet will be partially expanded for Cubic-S.