Two FIRST Robotics teams, sponsored by Kawasaki Robotics (USA), Inc., received honorable awards for their hard work and team-building spirit after competing at the Michigan Waterford District event, with one team also being part of the event's winning alliance.
FIRST Robotics Competition is a national league of 38,700 student teams who engage in robotic competitions while operating within strict rules, limited resources, and time limits. Teams are challenged to raise funds, design a team "brand", hone teamwork skills, and build and program robots to perform prescribed tasks against a field of competitors. Volunteer professional mentors lend their time and talent to guide each team. The league is composed of teams, grouped by age, starting as young as kindergarten and going up to grade 12.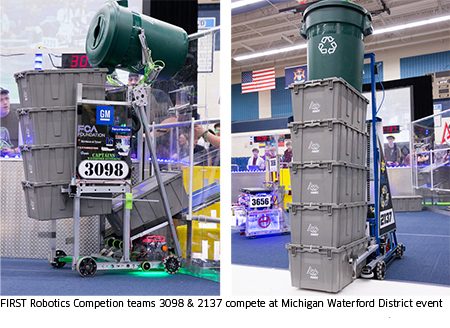 There are 338 teams in Michigan that compete in district events and a state championship. Kawasaki Robotics (USA), Inc. is a sponsor of Team 3098 from Waterford and Team 2137, from Oxford, Michigan. Earlier this month, both teams competed in Michigan Waterford District's second event, tackling this year's "Recycle Rush" challenge, a recycling-themed game played by two alliances of three robots. Robots score points by stacking totes on scoring platforms, capping those stacks with recycling containers, and properly disposing of pool noodles, meant to represent litter.
Team 3098 displayed a positive and encouraging attitude, which is a characteristic valued by the FIRST Robotics Competition league. The team was awarded the "Team Spirit Award", an outstanding achievement celebrating extraordinary enthusiasm and spirit through exceptional partnership and team work, contributing to the objectives of FIRST. Team 3098 will compete next at the Michigan Centerline District event.
Team 2137 powered through the district event and walked away victorious as part of the winning alliance, earning them a place in the state championship event. They were also the recipient of the "Chairman's Award" which is the highest honor given at the FRC Championship, recognizing the team that best represents a model for other teams to emulate and best embodies the purpose and goals of FIRST. Team 2137 is currently ranked 7/338 in the state and will compete next at the West Michigan District event.
Kawasaki Robotics congratulates Team 3098 and 2137 on these exceptional accomplishments. We can see a bright future ahead in "real-world engineering" for every one of these talented students and wish both teams great success in future competitions and events.