Two FIRST Robotics teams, sponsored by Kawasaki Robotics (USA), Inc., competed among 102 teams at the Michigan State Robotics Competition on April 11, 2015 in Grand Rapids. Both teams enjoyed a very successful competition, with one team earning the silver medal and the other receiving a prestigious award.
FIRST Robotics Competition is a national league of 38,700 student teams who engage in robotic competitions while operating within strict rules, limited resources, and time limits. Teams are challenged to raise funds, design a team "brand," hone teamwork skills, and build and program robots to perform prescribed tasks against a field of competitors. Volunteer professional mentors lend their time and talent to guide each team. The league is composed of teams, grouped by age, starting as young as kindergarten and going up to grade 12.
Kawasaki Robotics (USA), Inc. is a sponsor of Team 3098, The Captains, from Waterford and Team 2137, TORC, from Oxford, Michigan. In this year's "Recycle Rush" challenge, a recycling-themed game played by two alliances of three robots each, teams score points by stacking totes on scoring platforms, capping those stacks with recycling containers, and properly disposing of pool noodles, meant to represent litter.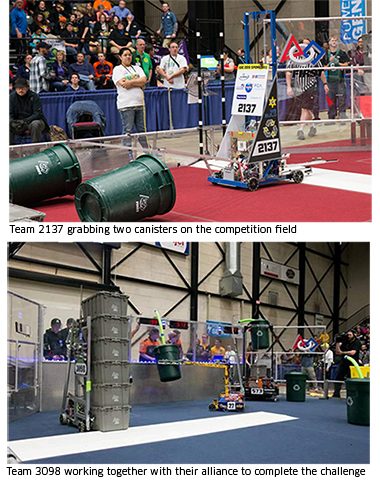 Qualification matches at the Michigan State Championship ended with Team 2137 seeded 9th and Team 3098 seeded 31st and were followed by the alliance selection process. This year's event featured an unconventional sixteen-alliance elimination tournament format, double the usual number of competing alliances. Team 2137 was appointed the captain of their alliance, which included Team 68 from Brandon and Holly high schools, and Team 494 from Goodrich. Team 3098 was drafted into an alliance with Team 573 from Brother Rice and Marion high schools, and Team 27 from Clarkston.
Team 2137's alliance very proudly made it as far as the quarter final bracket of the state championship. TORC concluded the event with a #3 ranking in the state and received one of three Chairman's Awards handed out at the event, allowing them to compete at the upcoming World Championship. The Chairman's Award is FIRST's most prestigious award, honoring teams that best represent a model for other teams to emulate and best embody the purpose and goals of FIRST.
Eliminating some serious competition along the way, Team 3098's alliance advanced all the way to the final round of the tournament and won the silver medal for the event, their best performance to date at the Michigan State Championship. The Captains' ranking in the state was boosted from #36 to #15, out of 338 Michigan teams.
Both teams are thrilled to move on to the FIRST Robotics World Championship being held at the Edward Jones Dome in St. Louis, Missouri from April 22 to 27, 2015. More than 600 teams are expected to compete in the event. Kawasaki Robotics congratulates both teams on their exciting achievements and wishes them the best at the World Championship. Go teams!
UPDATE – APRIL 30, 2015
In late April, an incredible 18,000 students from around the globe traveled to the Edward Jones Dome in St. Louis to compete in the FIRST World Championship event, which drew crowds of 40,000 roaring spectators.
The FIRST Championship is the culmination of the season's FIRST programs, bringing together three separate robotics competitions: the FIRST Robotics Competition (FRC) Championship, the FIRST Tech Challenge (FTC) World Championship, and the FIRST LEGO League (FLL) World Festival. Also featured was the Junior FIRST LEGO League (Jr. FLL) World Festival Expo. The high-tech spectator events combined the excitement of sport with science and technology. Students showcased the results of weeks of intense preparation, competing in thrilling matches and working on their robots in the "Pits".
The FIRST Robotics Competition Championship featured 608 teams from all over the world broken down into 8 event subdivisions, each containing 76 teams. The teams competed against each other within their subdivision and the 4 team winning alliance from each subdivision continued on to the final 8 alliances competition. Following both challenging and exhilarating matches, Team 3098, The Captains, made it all the way to the Hopper Subdivision's quarter finals before meeting defeat, finishing with a team ranking of 44th in their subdivision. Showing great determination and talent, Team 2137, TORC, came close to making the final 8, their quest for the championship's title ending with a loss in the Tesla's Subdivision's final. TORC finished the event with a team ranking of 3rd in their subdivision. Way to go Teams!
We hope all team members are as proud of this season's exciting accomplishments as we all are at Kawasaki Robotics. We look forward to the next inspiring season!