In today's highly competitive marketplace, meeting the demand for just-in-time deliveries, flexible packaging, the freshest products, or the highest production line efficiencies can be crucial to a company's success. To help meet these demands, Kawasaki Robotics is introducing a high-speed line of palletizing robots to drive the flexible automation of end-of-line and distribution processes.
The new high-performance CP-Series palletizing robots, with payload capacity from 180 kg to 500 kg, feature industry leading cycle times, a broad motion range, a space and energy saving controller, and easy-to-use palletizing software to program the robot's operation.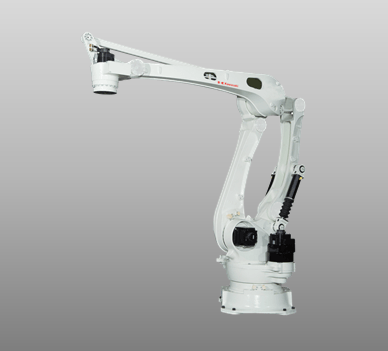 The CP-Series robot line boasts a large work envelope with a maximum reach of 3,255 mm, and an industry-leading palletizing capacity of 2,050 cycles per hour at a 130 kg payload using the CP180L model. The extra-long reach allows for one robot to be used to cover up to four pallets. It is also ideal for tall pallet stacks and multi-lane applications where the robot is required to reach over incoming and outgoing production lines.
The palletizing robots also feature a new space and energy saving controller that is only 25% of the standard palletizing controller size (41% with transformer unit) and fits under conveyors and other equipment. The CP-Series E03 controller generates electric power while in a deceleration mode, reducing energy consumption and minimizing carbon dioxide emissions. The optional transformer unit for the E03 controller provides an additional power connection for AC380V/480V to the controller standard of AC220V.
Programming the CP-Series robot is simple with Kawasaki's K-SPARC palletizing software. Available as an option, the software enables users to quickly and easily simulate layout planning and operations, as well as create robot operation programs on a computer.
The many features of the Kawasaki CP-Series high-speed palletizing robots increase production efficiency and minimize space requirements and energy consumption, making it an ideal solution for a wide range of palletizing applications across a variety of industries.
See CP-Series robot specifications – model CP180L, CP300L, and CP500L