In its first weekend, Marvel's new movie Ant-Man stood on top of the box office anthill. Cat burglar Scott Lang, aka Ant-Man, has the astonishing ability to shrink himself while increasing his strength thanks to a "Pym particle" super-suit invented by Scott's mentor Dr. Hank Pym. When Dr. Pym's technology is threatened, Ant-Man must do everything in his power to protect it.
In the movie, Dr. Pym's lab not only contains "Pym particle" secrets, it also houses two different Kawasaki robots. Movie goers that paid close attention to the Pym lab scene may have spotted the two robots working away. Both programmed to handle and move beakers, the Kawasaki RS010L robot is featured as the cunning Hope van Dyne played by Evangeline Lilly walks into the lab. The RS010L's co-star, an MC004N robot can be seen during much of the lab scene, situated on a table in the background.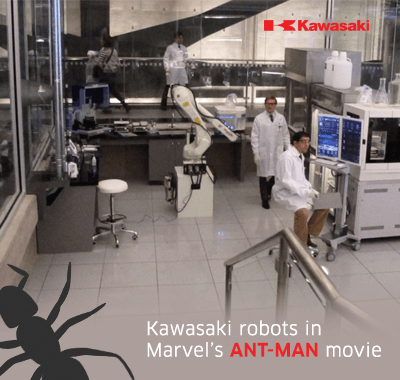 Whether it's moving beakers in a Marvel movie hit or welding metal parts on a manufacturing shop floor, Kawasaki's state of the art robots can service a wide range of applications and industries.