Kawasaki Robotics introduces the new BA006N arc welding robot with hollow wrist for through-arm cabling. The application specific robot uses the latest technology to rival the quality of a skilled human worker and boasts operation flexibility and speed for a wide range of arc welding applications. The compact six-axis model features a maximum reach of 1,445 mm, a 6 kg payload capacity and repeatability of ±0.05 mm. It is ideally suited for densely populated robot cells, or stand-alone cells, where minimal space is available.
The 45 mm inner diameter of the BA006N robot's hollow wrist structure is compatible with torch manufacturers' equipment and can be fitted with dress package cabling to minimize potential interference with other processing and manufacturing equipment. The offset design of the upper arm easily accommodates wire feed equipment. This provides more operation flexibility and allows joint 6 to operate at higher speeds, increasing productivity. In addition to preventing in process cable snagging, this speeds up onsite programming and eliminates 'cable positioning variables' to make offline programming more efficient and maintenance faster.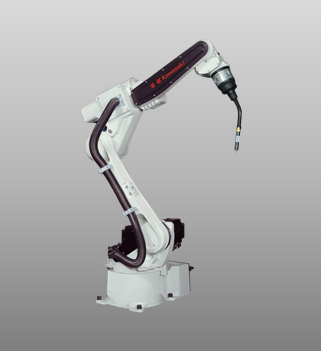 The robot is equipped standard with arc welding specific software to enable quick and easy programming of the process path. Adaptive welding functionality is available to modify robot position, weave pattern and speed during welding to fill variable joints. Kawasaki offers arc welding specific offline programming software to automatically generate robot programs from 3D CAD data. Kawasaki's KCONG software significantly reduces robot teaching time and lowers production costs.
Downtime can be reduced significantly by using the standard, dedicated start sequence function, which improves the arc establishment. Also, for weld process faults, the robot includes a restart sequence function to automatically conduct overlap welding and resume the operation. The Kawasaki arc welding robots also feature a one button "arc on / arc off" function to allow operators to easily and quickly turn the weld off and on during the automatic weld process. This manual arc control helps operators deal with part anomalies.
Advanced arc welding options available with the BA006N arc welding robot include: servo-torch, touch sensing, special weaving pattern, real-time path modification (RTPM) sensor, start-point sensing, multilayer welding function, and auto voltage control (AVC) sensor.
The built-in intelligence, flexibility and high accuracy of the BA006N robot deliver throughput and quality for a wide range of arc welding applications, and can help manufacturers keep one step ahead of the competition.