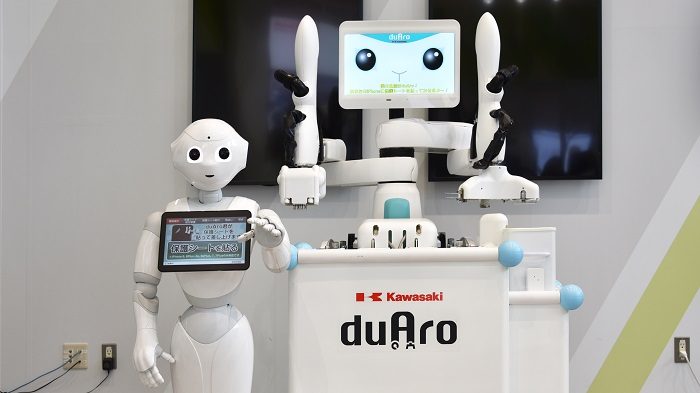 Kawasaki Robostage introduced "Pepper" the humanoid robotfrom SoftBank Corp. to its showroom in Tokyo, Japan. Pepper will serve showroom visitors in Japanese, English, and Chinese as well as work together with Kawasaki's collaborative robot, the duAro, to apply screen protectors to smartphones*, see video here. This application showcases both of the robots' ease of use, versatility and how they can perform collaborative tasks. This follows Kawasaki Heavy Industries, Ltd. announcement earlier in February of a joint initiative with SoftBank Corp. and SoftBank Robotics Corp. to explore robot applications for the duAro and Pepper that are rooted in communication with human users.
Industrial robots are being utilized to help human workers in an increasingly wide range of fields, but in order to broaden applications, they must be made easier to operate so that even inexperienced workers can use them. The joint initiative will pursue developments that combine the strengths of the duAro, a dual-arm collaborative robot that occupies minimal space, and Pepper, a robot that excels at communicating with humans, in order to facilitate easier adoption of industrial robots in factories, shops and offices.
SoftBank also intends to introduce the duAro into operations on an experimental basis by having it install a large number of apps required on mobile devices before shipping them to corporate customers. Through automation of operations, SoftBank hopes to shorten delivery times and boost customer service levels while searching out new ways to effectively utilize duAro and Pepper together in various fields.
Moving forward, the companies plan to offer up new concepts for combined utilization of duAro and Pepper in order to facilitate more widespread introduction of robots in a variety of industries. Through these efforts, the companies hope to contribute toward the realization of a society in which humans and robots live and work in harmony.
* Compatible Models: iPhone6/iPhone6 Plus/iPhone6s/iPhone6s Plus/iPhone7/iPhone7 Plus