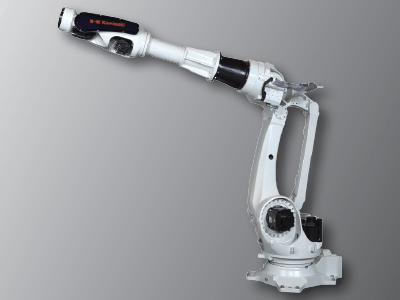 Kawasaki Robotics introduces the BX200X robot to their B series line of high-speed body shop robots for the Americas. The powerful new robot features a hollow wrist for housing cables and hoses, a high payload capacity of 200 kg to accommodate heavy weld guns or tooling, and an extended horizontal reach of 3,412 mm.
The B series robots were developed for body shop applications using Kawasaki's proven advanced technology and extensive automotive experience to take performance to the next level. The robots offer through-arm cable routing, a space saving design with a wide work envelope, as well as heavy-duty motors and advanced motion control technology that make the B robot a champion sprinter. These features reduce manufacturing line build and digital engineering time, and support installation in "high-density" applications, making the B series robots ideal for spot welding. All of these factors also contribute to a significant reduction in cycle times and result in maximum production.
Most notable about the BX200X model in particular is its long reach arm, which can extend up to 3,412 mm. In addition to spot welding applications, the robot's extended reach capability makes it a great candidate for material handling, material removal and dispensing applications.
The BX200X robot runs on Kawasaki's universal E series controllers. Kawasaki has incorporated 50 years' experience as a robot industry leader into the development of the most technically advanced controller available. The E controller combines high performance, unprecedented reliability, a host of integrated features and simple operation, all in a compact design.
FEATURES
Extended Reach
The BX200X robot's impressive 3,412 mm horizontal reach is an 815 mm increase from Kawasaki's other 200 kg payload robot, the BX200L, which is often leveraged for short-pitch movements. The BX200X's long reach and large payload capability increase its versatility, giving this robot the ability to manipulate large parts with peripheral equipment such as sealant dispensers or deburring spindles.
Wide Work Envelope
The Kawasaki B robot combines a long reach arm with a minimal amount of dead space for a wide work envelope and greater flexibility. Kawasaki Robotics' years of automotive experience have culminated into an optimal body shop design for both task effectiveness and multi-purpose usage.
High-Speed Spot Welding
Minimized net weight, heavy-duty motors and advanced motion control technology make the B robot an ideal spot welder. The improved motion sequence by the servo welding guns, as well as the automatic calibration feature to optimize acceleration and deceleration of the gun speed, leads to a significant reduction in cycle time and results in maximum production.
Integrated Dress Package
Exposed cable harnesses on conventionally dressed robots present a number of drawbacks, such as interference caused by adjacent robots or peripheral devices during in-field teaching or while executing playback after offline programming. The B series eliminates this problem by housing the cable harness within the robot arm. The arm and wrist of the B series robot are hollow, allowing the cable harness for spot welding to be internally routed between the base and wrist. This greatly boosts the efficiency of both offline programming and in-field teaching.
Higher Density Installation
Compared to conventional robots, the B series robots have a much smaller footprint and an even thinner body. Coupled with the cable harnesses housed within the robot arm, these features make it possible to install a large number of BX series robots within a confined space.
Main Specifications
| | |
| --- | --- |
| Model | BX200X |
| Launch date – Americas | May 20, 2019 |
| Arm type | Articulated |
| Degrees of freedom | 6 axes |
| Max. payload | 200 kg |
| Positional repeatability | ±0.07 mm |
| Product weight (separated, integrated) | 1,450 kg |