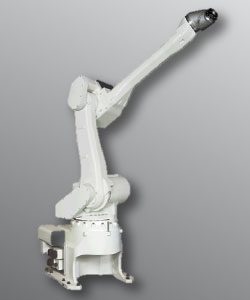 New to Kawasaki Robotics' K series line of explosion-proof painting robots is the KJ244, a 6-axis, mid-size paint robot ideal for applications involving medium-to-large size workpieces. Kawasaki developed this model as a response to automotive industry needs for a painting robot with a mid-size reach.
The floor-mounted KJ244 painting robot features a flexible 3R (roll, roll, roll) hollow wrist with inner diameter of 70 mm to accommodate hoses. At 2,400 mm, it offers the third-longest reach of Kawasaki's painting robot offerings, resulting in a wide range of motion and the ability to paint a variety of part types. The robot's standard 15 kg payload capacity allows it to accommodate external painting equipment, which can be mounted on the upper arm.
With years of robotic painting experience under their belt, Kawasaki has designed painting robots that combine high operational performance with easy system integration. With five basic types of explosion-proof models available, Kawasaki has a robot that will suit any robotic painting application, from a one-robot paint cell to complete multi-robot integrated finishing systems.
ADVANTAGES
Enhanced Flexibility
The new model's 2,400 mm reach can be leveraged to paint medium-to-large size workpieces, ranging from bumpers to full car bodies. The slim, lightweight design of the KJ244 paired with the flexible 3R (roll, roll, roll) wrist type gives it the mobility and dexterity it needs to paint complex pieces with ease.
Hollow Wrist Arms
Hollow wrist versions of the K series robot arms can be fitted with internal tubing to eliminate overspray that can adhere to the tubes, reducing the chance of contaminants in the paint finish and resulting in a clean, polished final product. By housing the tubing inside the arm, there is no risk of tubes getting caught on peripheral equipment or rubbing against the freshly painted part.
Easy System Integration
Kawasaki Robotics offers a control panel to enhance the ease of system building and interfacing with peripheral equipment such as robot traveling unit, workpiece transfer unit, rotation unit, and other devices. The control panel is an intuitive graphical interface that allows users to centrally operate and control all components of the robotic finishing system.
Main Specifications
| | |
| --- | --- |
| Model | KJ244 |
| Launch date – Americas | July 8, 2019 |
| Wrist Type | 3R (roll, roll, roll) |
| Degrees of freedom | 6 axes |
| Max. payload | 15 kg |
| Positional repeatability | ±0.5 mm |
| Product weight | 540 kg |