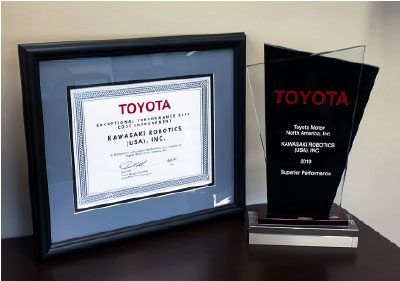 At Toyota USA's 2019 Indirect Annual Business Meeting, Kawasaki Robotics was granted Toyota's Superior Award for suppliers in the Machine and Equipment category.
A variety of Kawasaki robots are used in Toyota factories to weld, paint, and assemble Toyota and Lexus vehicles. Kawasaki is honored to be recognized by Toyota for providing superior value, along with hard work and dedication for more than 30 years, and looks forward to further collaboration in the years to come.
Congratulations to all of the 2019 award recipients!