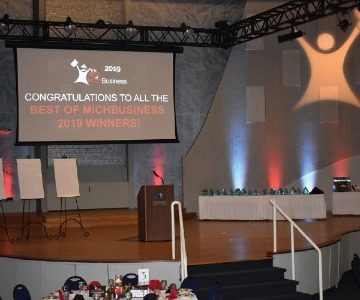 SOUTHFIELD, Michigan – At the 2019 Best of MichBusiness Awards & Gala, Kawasaki Robotics was honored with two awards; one in the "Technology Guru" category, and the other in the "Large Overall Company" category.
The Best of MichBusiness event honors success as the most exciting, connected business awards and networking opportunity in the State of Michigan. The Best of MichBusiness Awards Program is committed to recognizing companies and individuals that make Michigan a top-notch place to do business.
"As a company that has called this state home for more than 30 years, it's an honor to be recognized as one of 'The Best of Michigan Businesses'," said Samir Patel, Kawasaki Robotics Director, Product and Applications Engineering. "This recognition comes as a result of best-in-class robotics technology introduced in the state of Michigan and across America."
Congratulations to all of the 2019 award recipients!