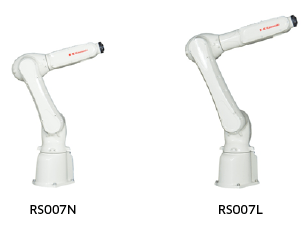 Kawasaki Robotics introduces the RS007N and RS007L, two 6-axis vertically articulated robots with maximum payload capacity of 7 kg and different reach. The company developed these two models in response to rising demand for compact robots in the electronics and food industries, as well as industries where such payload robots have already become standard. The RS007N and RS007L are the latest additions to the company's general-purpose R series line of small-to-medium payload (3-80 kg) robots, which offers excellent functional and environmental performance for assembly, material handling, machine tending and other applications.

Both the Kawasaki RS007N and RS007L continue to offer the operational advantages of the R series robots while incorporating a newly redesigned arm structure and main-unit weight reductions. These enhancements result in the fastest operating speeds in these robots' class along with increased working ranges. The RS007N robot features a 730 mm reach and the RS007L a 930 mm reach for greater flexibility in production facility layouts. With the release of these latest models, Kawasaki is able to respond to the needs of the small payload (10 kg or less) robot market with greater precision.
ADVANTAGES
Superior Speed
The redesigned arm structure and drive system provide greatly increased maximum and acceleration speeds. By adjusting acceleration rates in accordance with load weights and robot positioning, these models also offer consistently optimized performance by significantly reducing cycle times.
Expanded Working Range
By utilizing a cantilever design for the upper arm section, Kawasaki has achieved a longer maximum reach and an expanded range of motion: below, behind and in the immediate vicinity of the robot.
First Rate Environmental Protection
The dust-proof RS007N and RS007L robots feature a double-seal construction on all axes and waterproof electrical connections, offering an IP67 classification for the wrist and IP65 for the remaining axes.
Highly Flexible Installation
These floor or ceiling mount models are designed to house vision cables, sensor harnesses, air lines and other components inside the arm structure. This prevents interference with and from peripheral equipment, thus allowing for operation in tight installation spaces.
Main Specifications
Model
RS007N
RS007L
Launch date – Americas
December 1, 2017
October 19, 2017
Arm type
Vertical articulated
Degrees of freedom
6 axes
Max. payload
7 kg
Positional repeatability
±0.02 mm
±0.03 mm
Product weight
35 kg
36 kg
See detailed robot specifications for RS007N