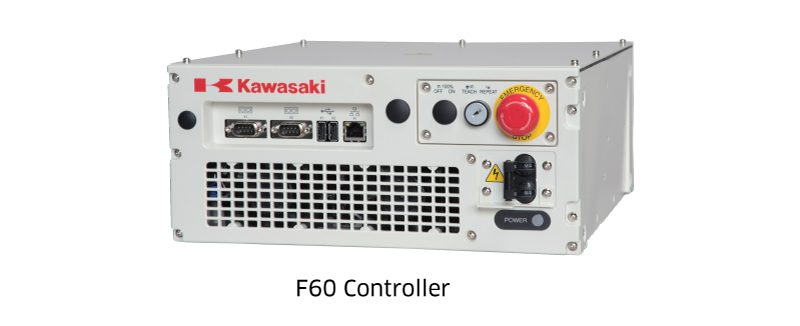 Kawasaki Robotics introduces the new F series controller for compact robots to the North American market. The controller boasts the industry's smallest size and weight in its class and is part of Kawasaki's software and control technologies development efforts to assist manufacturers digitally connect their machines and extract value from the Internet of Things (IoT). The energy saving robot controller series features enhanced data collection and transfer capabilities to support overall equipment efficiency (OEE) calculations and smart manufacturing. The Bluetooth enabled controller allows for the collection and analysis of both robot and production data and provides the ability to link to the cloud, other robots or machines, tablets, vision cameras and various fieldbuses.
The new series' initial release is the F60 controller, which is designed for use with compact, general-purpose robots RS003N, RS005N/L, RS006L and RS010N as well as medical/pharmaceutical robots MC004N and MS005N. In the future, Kawasaki plans to expand this series' lineup to cover semiconductor manufacturing clean robots and the collaborative dual-arm robot "duAro".
The F60 controller was developed to meet increasingly high functional demands and can be used for a broad range of applications. It features compact dimensions coupled with high extensibility through enhanced coordination functions with external devices. The F series preserves the user friendliness seen in the compact robot models' E7X series controllers while offering enhanced communication technology, improved ease of maintenance, energy-saving performance and the most compact, lightweight controller design in the industry.
FEATURES
Industry's Most Compact, Lightweight Design
Component size and weight reductions, as well as component integration and layout optimization, have resulted in an approximate 77% reduction in size and 72% reduction in weight compared to the Kawasaki E7X series of controllers. This compact design enables stacking, installation in 19-inch racks and other such arrangements, greatly reducing the space required for installation. Also, the low 8.3 kg weight makes it much easier for a single person to carry the unit.
Energy Savings
Regenerative energy produced during robot operations is reused to cut down on energy loss, and redesigned components and controls reduce electricity consumption by the control circuit. These improvements result in a total energy reduction of more than 10% and contribute toward greater overall energy savings and lower CO2 emissions.
Universal Support
Formerly, there were different controller specifications to support the respective standards of Japan/Asia, Europe, and the U.S. Now, functional safety technology allows for a common safety circuit. The new F series controllers have common global specifications that support the standards of every country.
Excellent Extensibility
With a highly extensible design enabling the addition of various optional features and functions, the F series can be customized to meet a wide range of user needs.
An optional, built-in bluetooth interface allows connection using tablets and other devices without the need for additional settings/customization
An integrated 2D vision system can be added
Connect to a maximum of four 32-channel I/O units for remote I/O
Add an external motor control amplifier for up to two axes and Cubic-S safety monitoring without sacrificing the unit's compact design
Main Specifications
| | |
| --- | --- |
| Controller type | F60 |
| Launch date – Americas | November 16, 2017 |
| Dimensions | W 300 x D 320 x H 130 mm |
| Product weight | 8.3 kg (not including optional features) |
| Control axes | 6 axes standard (8 axes max.) |
| External memory | USB memory |
| External Interface | USB / Ethernet / RS-232C |