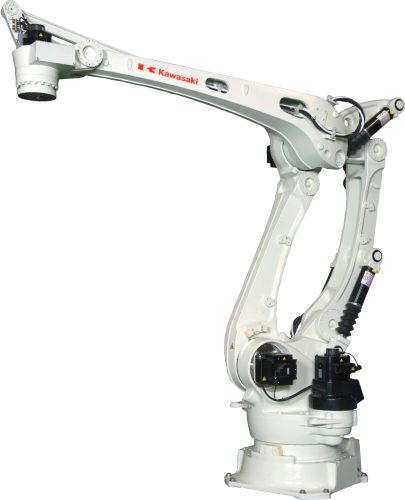 Kawasaki introduces the CP700L high-speed palletizing robot to the North American market to further address the growing demand for increased efficiency and higher load-carrying capacities brought about by the globalization of logistics. The CP700L is designed to handle heavy logistics-related cargo such as boxes and bags. By using the same primary arm components as other CP series palletizers and making the arm unit compact, the CP700L offers the industry's lightest weight (1,750 kg) while achieving a maximum payload of 700 kg. The E03 control unit is the same compact, energy-saving controller seen in other CP series products. By adopting this controller and its power regeneration function, which generates electric power while in a deceleration mode, this palletizer achieves reduced energy consumption and CO2 emissions.

The CP series of palletizing robots, released in 2015, are the fastest in their class. Kawasaki has further enhanced its product lineup by adding this 700 kg model to its current product range of CP180L/300L/500L with a maximum payload of 180/300/500 kg. Each has industry-leading reach, speed and quality to deliver high-performance automation technology for most any palletizing application.
FEATURES
1.High throughput
The CP series has an enhanced drive mechanism for the arm rotation, which is key to speeding up palletizing work. The CP700L model has the fastest throughput in its class, 900 cycles/hour. This allows faster process cycles, helping to speed up distribution.
2.Wide working range combined with a lightweight compact design
The series has a wide working range which supports a stowage range of width 1,800 mm, depth 1,600 mm and height 2,200 mm. By using the same arm design as the other CP series palletizing robots, Kawasaki has brought the CP700L's weight down to 1,750 kg and reduced the rotation axis' interference area for a more compact footprint.
3) K-SPARC palletizing software (optional)
An operating program can be generated on a computer simply by selecting the workpiece, pallet, and stowage pattern. Layout planning and operating simulation can also be performed, improving workability.
Main Specifications
| | |
| --- | --- |
| Robot model | CP700L |
| Launch date – Americas | April 13, 2017 |
| Arm type | Vertical articulated |
| Degrees of freedom | 4 axes |
| Max. reach | 3,255 mm |
| Max. payload | 700 kg |
| Repeatability | ±0.5 mm |
| Product weight | 1,750 kg |
| Palletizing capacity* (Payload) | 900 cycles/hour (700 kg) |
* When repeating a transport pattern of 400 mm upward movement, 2,000 mm horizontal movement and 400 mm downward movement