WIXOM, MI – On June 28, 2021, Kawasaki Robotics (USA), Inc. broke ground on the new addition to their facility, which serves as the company's North American headquarters and Training Center.
This event marks the 16 year anniversary, to the day, of the company's initial ground breaking, symbolizing the automation industry's continued growth and expansion. This new addition to Kawasaki's facility is not just an exciting moment for the company itself, but a testament to the resiliency and momentum of the automation industry.
With this expansion, Kawasaki will not only be able to broaden the scope of their business capabilities, but they will further establish Michigan's Oakland County as an automation hub committed to bringing robotics to the U.S. manufacturing sector.
If you have questions or would like more information about the expansion, follow Kawasaki Robotics on LinkedIn, Facebook and Twitter, or email the Kawasaki Robotics Marketing team at info@kri-us.com.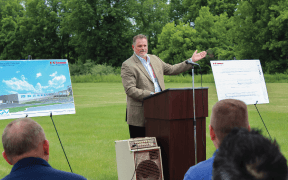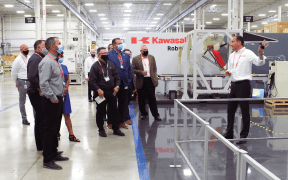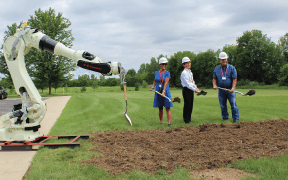 ABOUT KAWASAKI ROBOTICS
"We Are Not Robots" is our brand promise. We talked to our staff, integrators and customers and they all said the same thing. There are multiple worthy robotics options out there, but Kawasaki is the company that treats you like a human, cares about your business and answers the phone when you call. With 50 years of experience and thousands of robots installed worldwide, Kawasaki is automation partner you can trust.