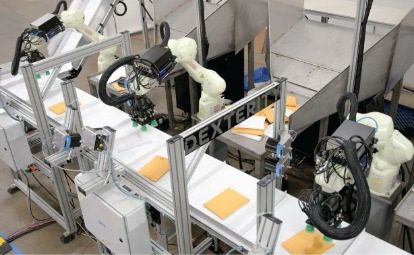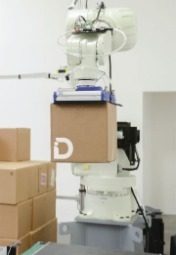 Kawasaki robots are currently being integrated by Dexterity, a new startup that engineers intelligent robots with human-like dexterous manipulation skills. With an initial focus on warehouse automation, Dexterity is using Kawasaki R series robots to package delicate food items safely and efficiently.
In their press release, Dexterity stated the following:
Transcending other systems in the market, Dexterity's software gives robots the human-like dexterity needed to work collaboratively and pick challenging items like plastic bags, clear glass, perishables, low profile items, and even objects encountered for the first time.
"While robots are the backbone of manufacturing, they have historically lacked the ability to adapt and operate in dynamic environments like warehouses," said Dexterity founder and CEO Samir Menon. "Dexterity's intelligent robots constantly adapt to warehouse operations and do the tedious and strenuous tasks, which maximizes productivity by enabling humans to focus on meaningful work."
Dexterity develops its robots with a full-stack approach, combining both software and hardware. To support high performance and adaptability with safe human-robot interaction, its robots have capabilities like touch perception, computer vision, force control, and contextual awareness.
Dexterity partners closely with customers to design systems and controls that match their individual needs and products, performing tasks such as fulfillment, kitting, sortation, singulation, palletization, and depalletization. Its platform is highly modular – rather than being coded to perform one specific task, robots can be deployed anywhere on any warehouse use case, with grippers or suction cups to suit objects being handled, 3D camera systems to track items, and general machine learning models trained to identify arbitrary unknown objects. By working with Dexterity robots, operators have become 47% more productive, and that improvement is growing over time as the robots learn and are more tightly integrate into local operations. Dexterity robots can also work safely alongside or independently of humans and have the ability to comply and respond to human movement and interference.
"Dexterity's artificial intelligence, computer vision, and stacking design technology was what really stood out to us. Samir provides a clear vision for the future of our robotic applications and gives us confidence that with this partnership, we can easily deploy our robots in a variety of ways," said Toshihiko M., Manager, Robotics Business Center, Kawasaki Heavy Industries, Ltd.
About Dexterity:
Dexterity, Inc. creates intelligent robots with human-like dexterity that enable customers to unlock the maximum value of their workforce. Dexterity solves labor shortages by delegating repetitive tasks so employees can focus on higher-level, cognitive work. Its full stack robotics solutions automate routine tasks for logistics, warehousing, and supply chain operations and can be deployed to perform a wide variety of complex manipulations in unpredictable environments. Learn more at www.dexterity.ai.