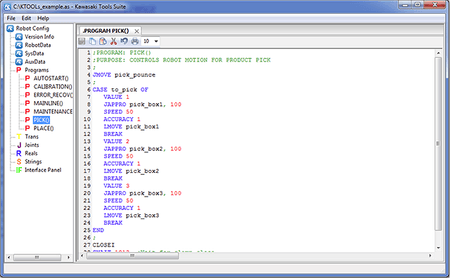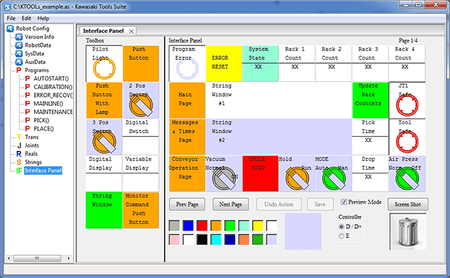 K-TOOLS is an engineer's best friend. Equipped with user-friendly features, this programming software reduces programming time by organizing robot backups and programs into an intuitive and easy-to-navigate tree structure with drag and drop functionality.
Fast & Easy: This software also makes it easy for users to design interface panels.  The user can also connect directly to a robot over Ethernet, making it easy to load and save programs as well as online modifications.
Terminal Software: K-TOOLS also includes terminal software which gives the user a window into the robot controller. They can quickly check variables, monitor information, and gain live access to the controller as needed.
Accessibility: K-TOOLS LITE is a free product available to all Kawasaki customers, which includes some of the K-TOOLS software's most commonly used features. Users of this version can view and edit programs, variables, points and robot backups. If you're looking for the best way to program and troubleshoot Kawasaki robots, K-TOOLS is the way to go.
Users can access all of K-TOOLS' features by purchasing the software license. Contact us to learn more.