Failure Prediction Software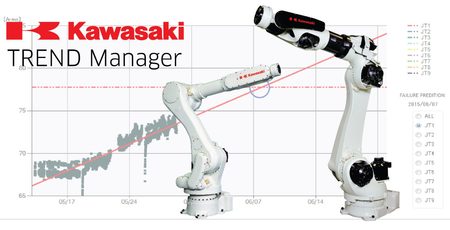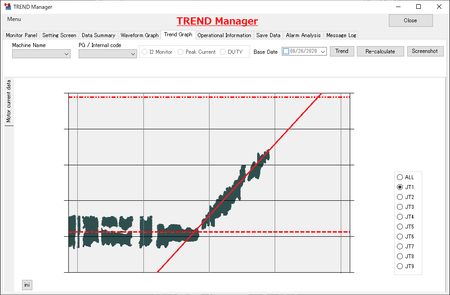 Maintenance is an unavoidable part of owning a robot, but unexpected maintenance should not be. That's why we developed our failure prediction software, Kawasaki TREND Manager. While robots are in production, TREND Manager acquires and analyzes robot data, feeding vital information back to the user.
Active Monitoring: TREND Manager  generates a failure prediction date using the data it acquires. The date is clearly noted in the interface so the user can schedule a time for maintenance or perform the repair during regularly scheduled downtime.
User-Friendly Interface: The software records motor current commands graphically while actively monitoring the condition of the motor and reduction unit. The current command values follow the trend line with continued use so the user knows when to conduct maintenance.
Be In the Know: When TREND Manager detects an abnormality, a warning or alarm is sent to the user via email. If an error does occur, the software also sends an email to the user, saves the data, and logs it for reference.