For most engineers, it's obvious what their career will be at a young age. But for Brooke Mewton, a talented and driven Project Engineer at Kawasaki Robotics, that was not the case.
Growing Up & Finding the Path
"Honestly, I was into things like cheerleading, makeup and hair as a kid. Looking back, there's very little connection between my childhood interests and what I do now."
Brooke always had an insatiable curiosity and could easily solve complex problems, but she didn't know any engineers who could push her further until she got to college. The gateway, as it turned out, was math. "I've always been good at it, and it's what led me to Michigan State."
Brooke went in planning on being a math teacher, but she soon found it didn't fit quite right. When her dad asked if she wanted to try something more independent, she started taking engineering classes. "That shifted everything. It was my first exposure to engineering, and right away I loved how you could bounce ideas off of people, take as much time as you needed to think and try something and not be afraid of failure."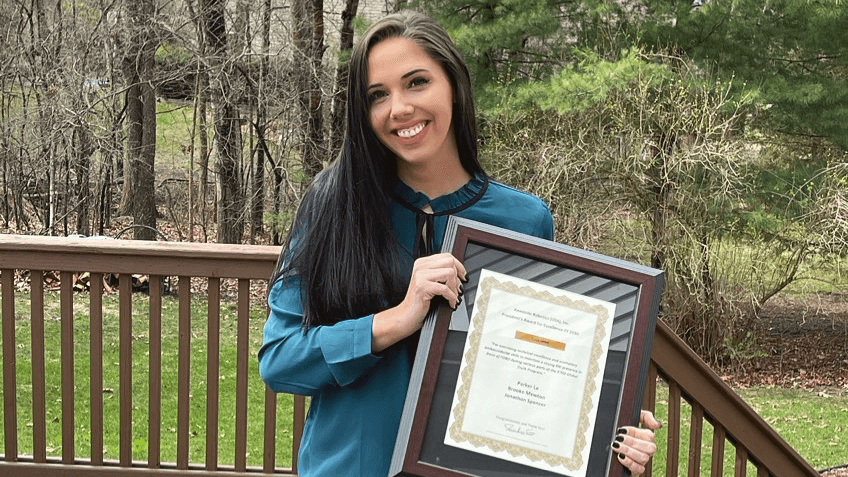 From College to Kawasaki Robotics
Brooke got her physics degree from Sparty in 2019 and landed back-to-back internships at Kawasaki Robotics. While working full-time, she also got her MBA (in just one year) from Walsh College.
"Because I arrived late to engineering, I really wanted to get as much hands-on experience as I could," she said. "My initial time at Kawasaki showed me that college gives you base knowledge, but you'll be asking plenty of questions for your entire career."
When asked when she knew she wanted to go from intern to full-time Project Engineer, Brooke had her answer ready. "No one ever micromanaged me. I was free to fill my time and was trusted to be a professional who got their stuff done. At Kawasaki, you have a lot of flexibility and autonomy in the projects you work on and the way you do them."
Past, Present, Future
A standout Kawasaki memory of Brooke's is working the night shift, which lets staffers pull late-night duty during the July shutdown. "I thought that was a cool bridge from childhood to adulthood," she said. "Being up and productive at 1 a.m. was a nostalgic feeling, and the rarity of doing it at work made it extra memorable."
Currently, Brooke's days are spent doing plenty of vision projects and R&D testing. She also has an intern of her own, and it makes her laugh to see how things have come full circle. "He asks me questions I remember asking my mentor, he gets as nervous as I did in meetings. That all used to be me."
As for her favorite part of the job, Brooke had an answer that verifies she does indeed work at Kawasaki Robotics: it's the people. "Not the most engineering answer, I know. But I work with great ones who push me every day and make me want to learn more. They're kind, they're knowledgeable, they'll challenge you. It's an open forum where you can always feel free to ask questions."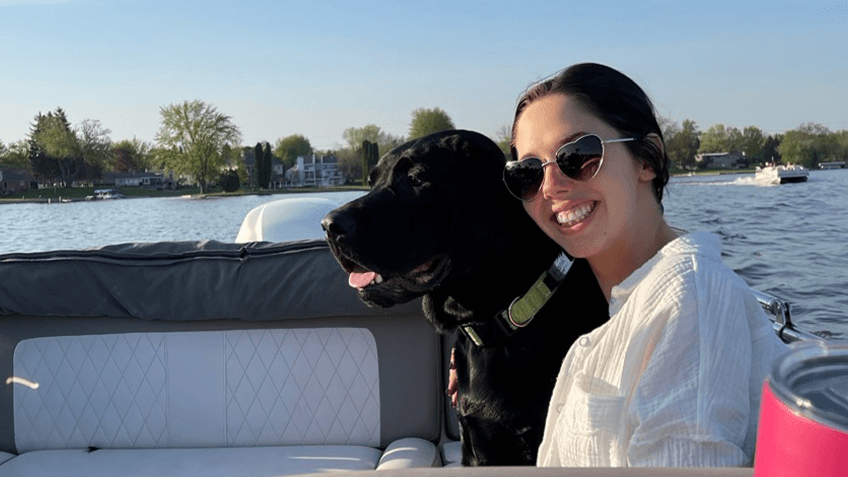 LIGHTNING ROUND!
Dog: Hank, a 2-year-old black lab. He has plenty of energy, but he's half English, so that calms him down, and he's big, which calms him too.
Ever call him Henry? Nope, just Hank. But my friend Jake would get called Jacob when he got in trouble as a kid, so my family calls Hank Hankob.
Hank's favorite treat: I get him doggy ice cream, or froyo. Well, I call it froyo, but it's really non-fat Greek yogurt. My boy's a little beefy, so now we're trying to make some healthier choices.
1 book pick: It's gotta be fiction, probably The One by John Marrs. Sort of an experimental thriller where the premise is if you could take a DNA test and find your soulmate, would you do it?
1 TV show pick: The Office, American version.
1 band or artist pick: ABBA. There was a lot of 80s music in my house growing up. I went to Sweden a few years ago and visited an Abba museum, which sold me forever.
Top places you've traveled to: The birthplace of ABBA, of course. Aruba and Denver too.
Top places you're going to travel to: Paris, Fiji, Bora Bora. RESORT LIIIIIIIFE.
Drink of choice: I feel like I should say something like pink lemonade. Can I say something else? Okay, great: Martini. As sweet as possible. Vodka, not gin.
Drink you won't ever have again: I'm gonna get flak for this. Mountain Dew. I think it's disgusting.
Type of food: Mexican
What you'd order at that restaurant: Tamales or enchiladas
What you're cooking for a surprise guest: Lots of comfort food. Steak, twice-baked potatoes, mac and cheese.
Favorite childhood toy: My Razor scooter. I'd do laps with my brother around the block until it inevitably smacked my ankle.
Thing you'll always be bad at no matter how much you try: Drawing. I'm terrible, no artistic talent. I can color it though!
Secret talent: Green thumb. Looking at my plants right now, they seem pretty happy.
Word of advice to physics majors: Keep learning, keep trying, keep going. It's overwhelming at first, but your knowledge will always grow and failure isn't as scary in this field. Let that sense of overwhelm be an inspiration and not a fear.