At Kawasaki Robotics, we have a saying we throw around from time to time: difference-making robotics from down-to-earth people. On a regular basis, our customers comment on how human our people are. Friendly, kind, easy to work with.
All of those attributes and more describe Stephanie Evans. She's had many roles and responsibilities in her decade at Kawasaki, and she's succeeded with each one because of her consistent mindset: she truly loves making people happy and seeing them smile.
The Start
Stephanie found us just about 10 years ago through a contracting company. "I applied, came in and interviewed, and by the time I was halfway home I had a call from the recruiter saying that Kawasaki wanted to hire me. I worked through the contractor for the first year or so, then got hired directly by Kawasaki."
She spent her first four years in Shipping & Receiving, which was heavy on manual labor. "That was hard work and a good workout for sure, especially on hot days," she said. "I'd scan everything in, make sure it all matched up, put it on the shelves, and Inventory would take it from there."
From there, Stephanie moved to Refurb & Repair. "To this day, that job is like my little baby and I don't want to let it go. Usual tasks there include quoting customers, getting serial numbers and as much info as possible, then receiving parts, converting POs, and giving everything to our refurb techs."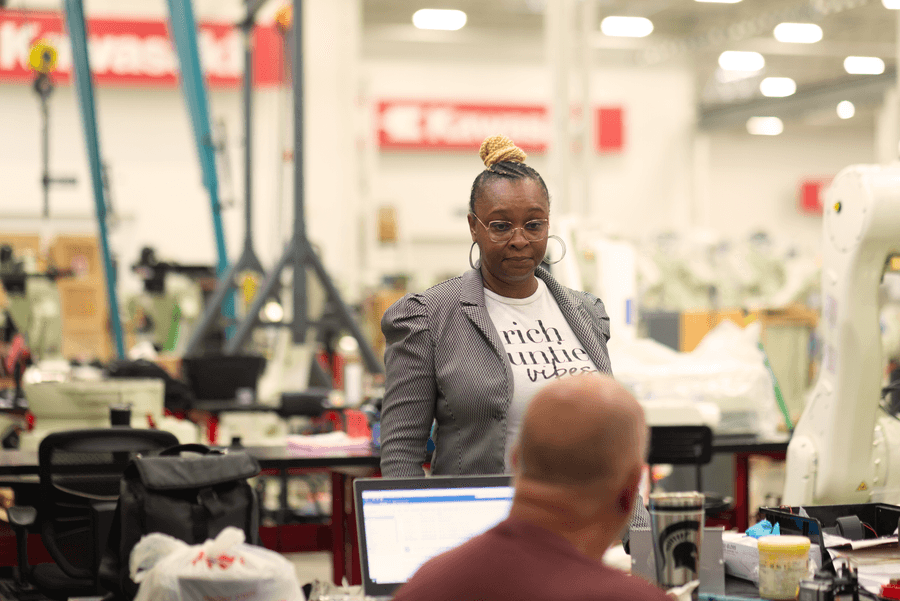 How Stephanie Stands Out
It's at this point that we get to little details that show why Stephanie makes such a big difference. One thing she implemented: customer appreciation for Kawasaki customers who went through Refurb & Repair.
"It's nothing huge, but when the work is done, I like to send customers a bag of candy thanking them for their business. I noticed a couple customers doing that when I worked in Shipping & Receiving, and I really liked it. Those little unexpected gifts make a big difference."
Today, while still staying involved in Refurb & Repair, Stephanie is Executive Admin as well. "I work closely with our service techs in that role," she said. "They'll quote a customer, and I'll order parts and get them on the schedule. Once the work is done, they hand in expenses, field service reports, receipts. I process all of it and bill the customer. It was a little chaotic when I started but I'm proud to say it's running smoothly now."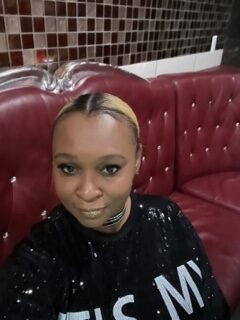 16 years ago, Stephanie's sister got married. Through that process, Stephanie discovered a love for event planning. She still does that on the side when people need it. The skill has come in handy for us at Kawasaki Robotics as well, both in her everyday roles and for special events.
"We have a KawaService conference every year, and just this past year we went to Louisville as a group for the week," she said. "So I help organize that, choose activities, find hotels, stuff like that. There's lots of conference time and training for our service techs, but we also managed to do a bowling/arcade outing, a session at Top Golf and a boat tour up the river."
How Kawasaki Stands Out
We asked Stephanie when she realized she wanted to work for Kawasaki long-term, and she said the moment was a little more recent.
"It was when Mike Dawson (Manager of Service & Production) and Darrin Stewart (Director of Service, Supply Chain & Production) joined us," she said. "When management comes and goes, it's hard to form those personal relationships that help it feel like more than a job. But in the last few years, you can feel that Service definitely feels more like a family here.
"Everyone's ideas are listened to, and we all work together to get the work done better than we ever have before. And we find ways to have fun, too. Could be our KawaService conference, or a picnic, or a Tigers baseball game. I give a lot of credit to Darrin and Mike for changing the atmosphere and culture on the service side."
LIGHTNING ROUND!
Family: One son, who's 19. I like to tell him that he's my favorite. He recently figured out what he wants to do with his life: accounting! I said go ahead, I need someone to handle my finances.
What Stephanie's doing when she's not working: In the summer? Drinking wine on the patio. In the winter? Drinking wine while binging some TV.
1 TV show pick: Definitely House of Dragons, the prequel to Game of Thrones. Can't wait for the 2nd season.
1 band or artist pick: I'm a blues kinda girl. Actually going to a blues concert on Saturday. My favorite artist right now is King George.
Secret talent: I went to bartending school and can probably make your favorite cocktail exactly how you like it.
Best place you've traveled to: Dallas, Texas. I almost moved there. I loved the rodeo, the food, oh my goodness, the food. The people there were so kind, too.
Drink of choice: It's actually not wine. I love Old Fashioneds, so I ride with bourbon. I can tell when bartenders are holding back because I'm a woman. I'm like, "Nuh-uh. Make me a REAL Old Fashioned. I can take it.
Drink you won't ever have again: A mojito. Not for me. The mint throws me off.
Type of food: Mexican, hands down
What you're ordering from your favorite Mexican place: Tacos and margaritas. Today is Taco Tuesday, so you can bet I'm doing that later. My favorite place around here is called El Nibble Nook. Amazing California-style tacos. Spicy shredded beef, spicy salsa. It's so good.
Thing you'll always be terrible at no matter how often you try: Probably bowling. I can roll it, but which way it's gonna go? No idea.
Word of advice to people just starting their careers: Just be patient and take it a day at a time. All good things really do come to those who wait. I don't have a college degree, but I just had patience and worked my up to a position I really wanted to be in.