Spend a little time on the and it becomes obvious that they know their way around packaging automation. And after just a few minutes of talking with them, a deeper truth emerges: the people at NOVA care deeply about what they do, and about the industry and customers they serve. It's why we've enjoyed working with them for well over a decade.
The NOVA Start
NOVA Automation got its start in the mid-1990s when the founders had the urge to return to Denver and serve a customer base that wasn't being fully taken care of. The reason for starting the company then was the same as the vision now: to give the packaging industry robust and durable industrial automation.
"We started in palletizing, and we've since grown into bag filling, stretch wrapping, and conveyance," said Paul Wegman, CEO of NOVA Automation. "The end-to-end systems we build are incredibly robust."
"When my business partner and I purchased the company in 2018, we did so because it was such an exciting opportunity. The NOVA products and projects were a solid foundation, and there was an opportunity to make things even better. Today, we've simplified our machines to make them very easy for less experienced operators to run."
The NOVA Difference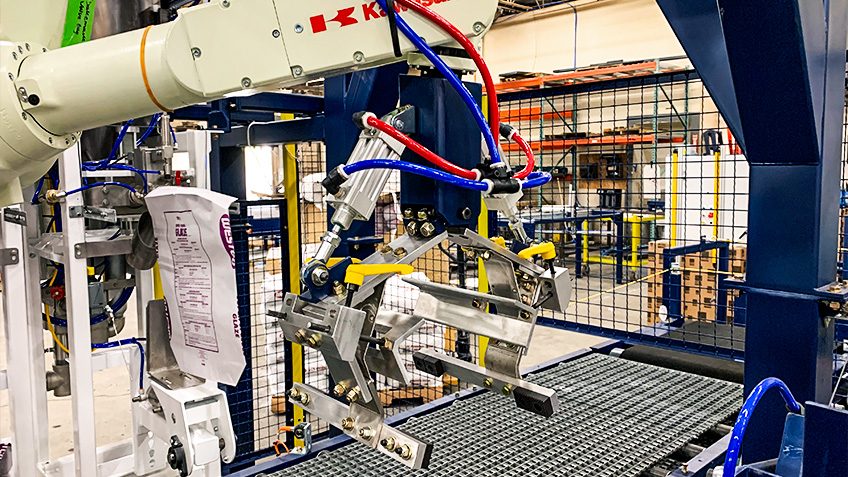 NOVA stands out from other automation providers in a couple of ways. The first is something Wegman covered. "We're an end-to-end manufacturer here, meaning every product that ships out of our facility, we control the design, the manufacturing, the control system, the testing, all of it. So, we have incredible flexibility to respond to customer needs. We can do business at a pace that's much faster than others."
The second difference-maker is one we've noticed firsthand on a regular basis: NOVA truly listens to customers and partners. Not only does this practice help to build long-lasting relationships, it also guides the kind of product innovation that's only possible when you're paying close attention.
The Mobile Palletizing Cell
For proof that NOVA listens and responds better than most, look no further than the company's . "What we were hearing from the market was that there was a need for collaborative robots in palletizing," Wegman said. "But in speaking to customers, it didn't make much sense. What they actually needed was a stronger and tougher industrial robot, but also with a small footprint that was mobile and easy to use."
The MPC Series was developed and launched as a result. Plug, Play, Profit is the language NOVA uses to market the product, and it's no joke. The programming is already done before it arrives, and it's paired with an intuitive user interface with an HMI that's ready to go—plus the NOVA Pallet Builder, which lets users build new pallets on the fly without touching the robotic pendant. It's a fully enclosed and forklift-moveable cell, ready to rock right when it comes off the truck.
"A person is never going to help a robot palletize, so people didn't need cobots, as it turns out. They needed industrial strength and speed in a small form factor that was easy to set up and operate," Wegman said.
Kawasaki + NOVA
NOVA has used Kawasaki Robotics offerings for many of its product lines for close to 15 years. Wegman didn't discover what Kawasaki was all about until later, but the symmetry was immediately apparent.
"I knew a lot about Kawasaki as a motorcycle and ATV manufacturer, but I didn't know they were in robotics until I got to NOVA in 2018," he said. "What I learned was, Kawasaki makes an awesome product we've had a great track record with."
"But what really makes them different is the way they support us and our customers. They really do treat us like we're their best customer. That support we get is far more important to me than just having a great product."
Kawasaki's CP Series: NOVA's Workhorse for Palletizing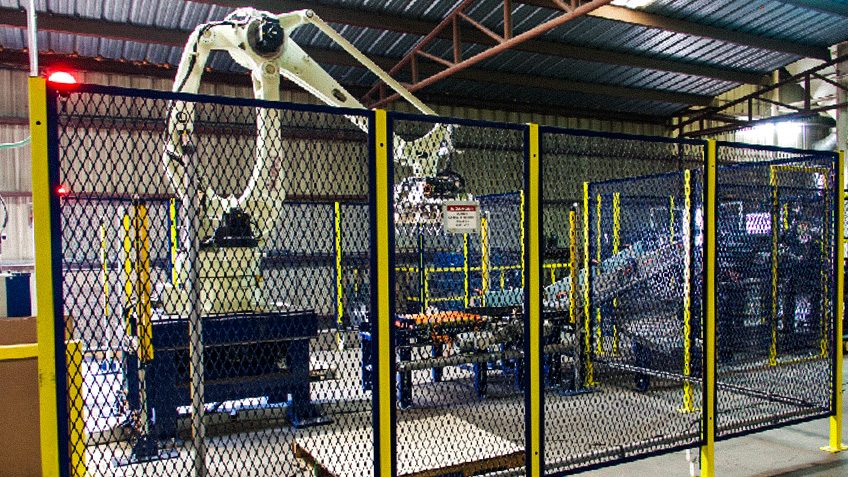 NOVA specializes in solving complex packaging automation challenges for customers who have a wide range of speed and product demands. Robust robotics solutions require robust robots, which is why the company leans heavily on the CP Series of palletizing robots from Kawasaki.
"The CP series is our workhorse," said Wegman. "It's a robot we've been selling for over 12 years that has stood the test of time in the harshest environments and continues to perform day in and day out."
The CP Series sports an impressive payload capacity, plus industry-leading cycle times, a maximum reach of over 3 meters, and a 2,000+ cycle-per-hour palletizing capacity. Its versatility makes it an ideal fit for palletizing, where customer needs vary widely.
Building the Culture
On the subject of how NOVA stands out from other manufacturing companies, Wegman and his colleagues have worked hard to build a business with a healthy, collaborative environment that people want to return to.
"First of all, it's just fun to see everything that's going on here on a daily basis," he said. "Go on our floor today and you'll see seven projects being tested with robots running. Our team isn't making 10,000 widgets per day, either. They actually get to see the product from start to finish, then again in the real world.
"We also try to bring in a lot of compassion, awareness, and mindfulness. These past few years have been hard in a lot of ways, so we brought in a certified mindfulness teacher to show us how to meditate, and to teach some compassion and vulnerability exercises. It makes for pretty powerful moments, and we still use the exercises here on a regular basis."
The Future of NOVA
"We're at an awesome and exciting spot in our journey. We've proven that our processes can scale and are profitable, and we know now that this is a viable business that's ready for even more growth," Wegman said. "A building expansion, growing our staff, finding more space in Denver to build and test, all of that stuff is on the table.
"When I first started here five years ago, people still saw us as job killers. But now it's shifted. Companies can't meet their output needs alone, but we can help with that. We're taking people out of dirty, harsh environments that are prone to ergonomic injuries and giving them the freedom to pursue better, safer jobs within their company."
One thing we know for sure: NOVA will be listening closely and developing industrial packaging solutions that actually solve a need that manufacturers have. It's why we've worked with them for so long, and why we'll work with them for years to come.
If you, like NOVA, have a clear need for high-speed industrial palletizing robots, read up on the CP Series from Kawasaki. We have robots in stock and ready to unlock automation benefits at your facility.