OVERVIEW
Home builder Sekisui Heim is the world's first company to construct houses using the Unit Construction Method. At their 838,000 sq. foot facility, Sekisui Heim builds and ships fully finished housing units with assembled frames and exterior and interior walls, floors, stairs, and windows all installed so contractors simply connect the units together on site to form a complete house. Thanks to this method, contractors can finish work at housing sites in a day. Also, unfinished units are no longer left susceptible to inclement weather, leading to a higher quality product.
Sekisui Heim wanted to find a way to provide quality control while combatting labor shortages. Inspired by automotive factories, they added Kawasaki robots to their production line. This choice not only achieved their initial goals but also resulted in a better work environment, higher efficiency, and a positive impact on their bottom line.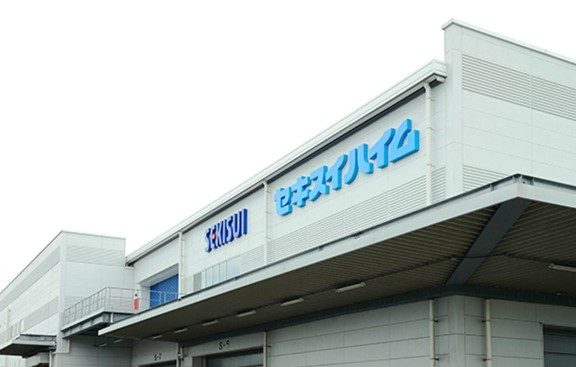 CHALLENGES
Different Weld Strengths Required
Each housing unit has different strength requirements. For example, first floor units need to be stronger than the third-floor units due to the weight they'll hold. Since the weld strengths vary, the robots needed to be able to execute more than 30 different welding programs.
Labor Shortages in Welding Industry
At the Kyushu plant, labor shortages caused issues with output and quality. "Welder shortages were a serious issue for us," said Satoshi Kurahasi, Engineering division Manager and Construction Division Manager of Sekisui Heim's Kyushu plant. "Before automating our spot-welding process, three welders were required. But as they aged, securing welders on a stable basis became difficult. Due to the lack of workers, if someone was off sick, our production and quality would not be guaranteed."
SOLUTION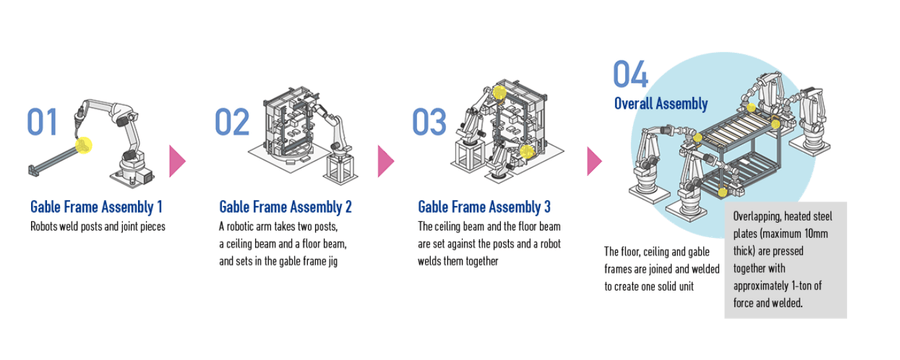 For the gable frame assembly, Sekisui chose Kawasaki's large BX200L robot. This specific model is capable of 200 kg payloads and a ±0.2mm repeatability. Kawasaki designed robust robots for high-density operations with features like through-arm cabling for easier maintenance and reduced wear.
In the process, the robot carries four previously welded steel posts and beams. Next, it sets them up on the machine laid out in a frame-like configuration.  Then, two extra-large Kawasaki MX420L robots are waiting to spot weld the corners. Sekisui attached special spot-welding guns to these robots to weld steel plates as thick as 10mm. Robots weld each corner with 8-12 points.
Kawasaki's heavy-duty M series robots handle 350-1,400 kg payloads with ease and accuracy without compromising compact design or high precision. The MX420L specifically offers a 420 kg payload with ±0.1 mm repeatability.
The assembly process for the entire unit uses four additional MX420L robots to assemble four frames. They handle the ceiling, floor and gable frames. They also weld 10 to 14 points on each corner, with temperatures ranging between 2,700°F and 2,900°F.
A dream becomes reality
Sekisui Heim continues to pursue the highest level of quality. But, in the beginning, their idea sounded like a far-fetched dream.
"When we first started conceptualizing this robotic house-building system, we contacted several companies but no one took us seriously," Kurahashi said. "Kawasaki went as far as to simulate the concept and worked with us to the point where we confirmed that it was a technically feasible plan."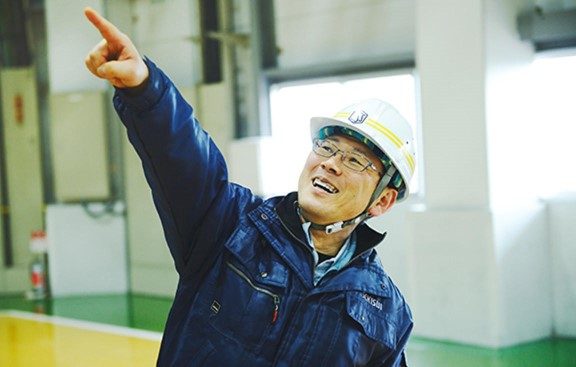 RESULTS
Robots allowed for increase in production from 55 to 65 units per day
Number of operators reduced by 20, workers redeployed to more human-friendly tasks
Calculations indicate company will achieve ROI in three years
Product quality and customer confidence improved
Since implementing robots, the Sekisui Heim has simultaneously improved production and employee work environment. By assigning human-friendly tasksto humans and leaving the rest to robots, the company has created a win-win relationship.
"First of all, productivity improved. The factory renewal we've undergone has led to an increase in the number of units we are able to produce per day from 55 units to 65 units," Kurahashi said. "While factory automation through the application of robots or other methods has cut down the number of workers required for unit assembly by 20 compared to before, we've relocated staff replaced by robots to take on tasks which require human hands."
"In other words, the manpower saved by the streamlining has shifted over to other value-adding tasks," Kurahashi added.
Automation also helped Sekisui improve the product quality. "The most crucial part of implementing robots was securing the precision of units," Kurahashi said.
In addition to the process and product improvements, the addition of robots has had a direct, positive impact on Sekisui's bottom line. "It has also brought positive influence on our sales," Kurahashi said. "With this renewal, we've created a factory visitation route and proactively invite customers who come to see the model houses to visit the factory. Having customers see how the robots construct houses certainly seems to make them more comfortable in their decision to make a purchase."
This article is supported by Sekisui Heim Kyusyu Corporation.