OVERVIEW
As experienced arc welders grow scarce and mass production amplifies the need for consistency, many companies are at a loss. They need to weld their parts, but it's difficult to find skilled welders who can produce high quality products – let alone maintain that standard hourly. Today, advances in robotic arc welding make it possible for companies to experience the quality and consistency of an expert arc welder on their best day, every single weld.
In the mid-1980s, Kawasaki Motors Manufacturing Corp., USA (KMM) installed their first Kawasaki robots to weld their all-terrain vehicle (ATV) and Mule and Teryx four-wheeler frames. Thirty years later, the manufacturer uses 71 Kawasaki arc welding robots, and that number will grow to 84 by June of 2019.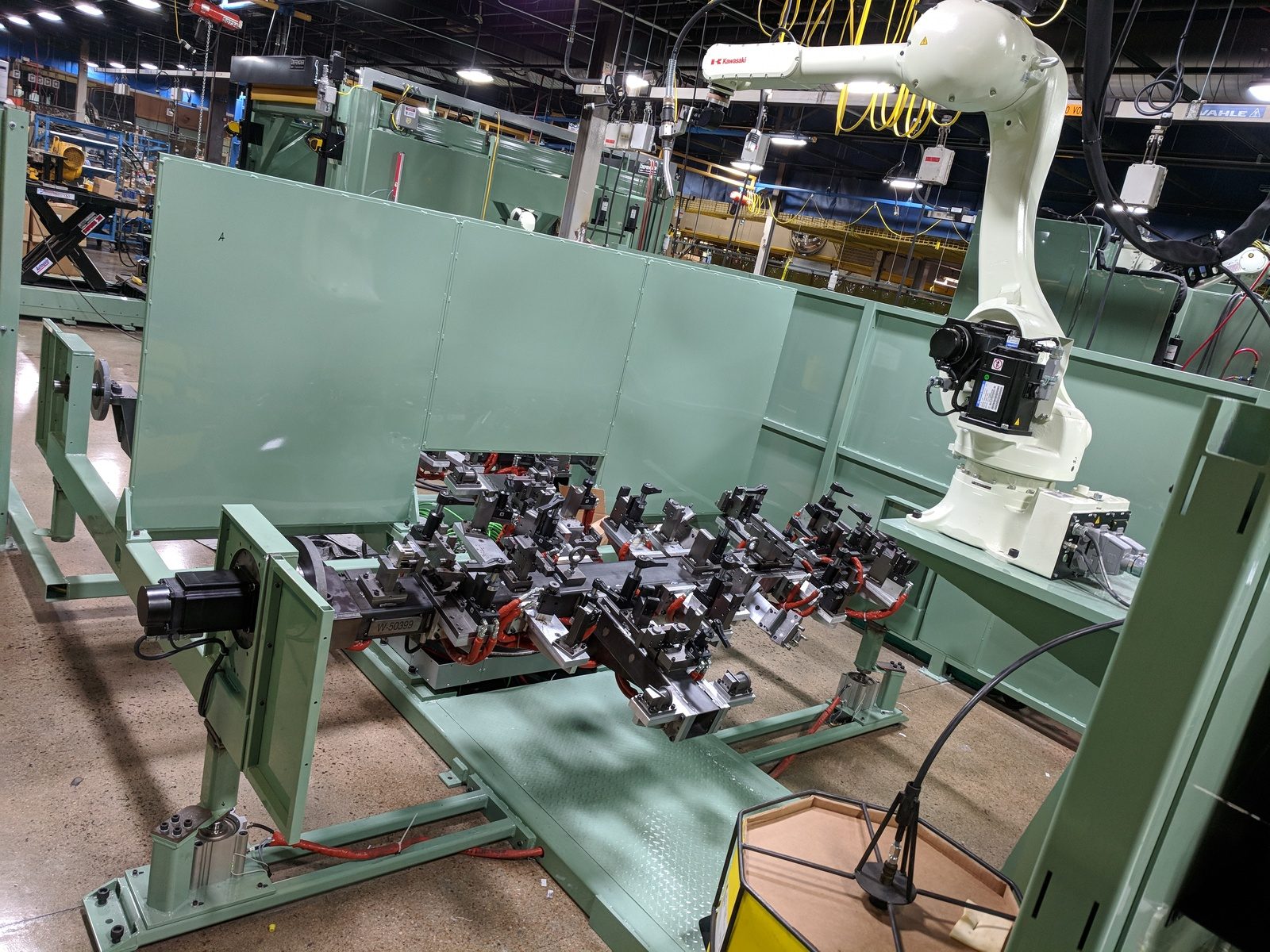 CHALLENGES
KMM didn't need automation to increase their production volume. However, they needed robotic arc welding to maintain their current rate of production while providing a more repeatable frame. They also needed a versatile solution that could weld a variety of parts.
A solution for labor shortages
For years, KMM fought an uphill battle against labor shortages in the welding industry. Now, 80% of KMM's arc welding processes are automated using Kawasaki robots, and only 20% of the work needs to be done manually. Now, trained welders can do the additional work, which includes double checking the robot's work or accessing hard-to-reach areas.
Consistency and reliability
Product quality standards are always increasing, and meeting them with manual methods is a challenge. KMM does mostly pipe-to-pipe welding, so they need highly repeatable robots to run programs without having to see the path. To meet this need, Kawasaki RS010L robots have a repeatability of ±0.05 mm, which results in a highly consistent product. "Kawasaki robots are by far the most reliable that we've seen on the market," Gordon said.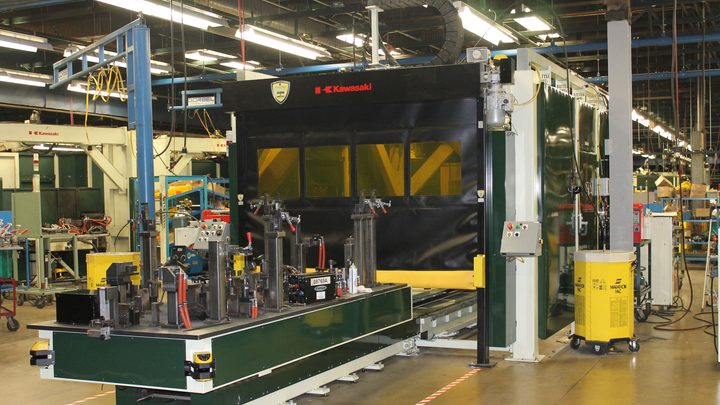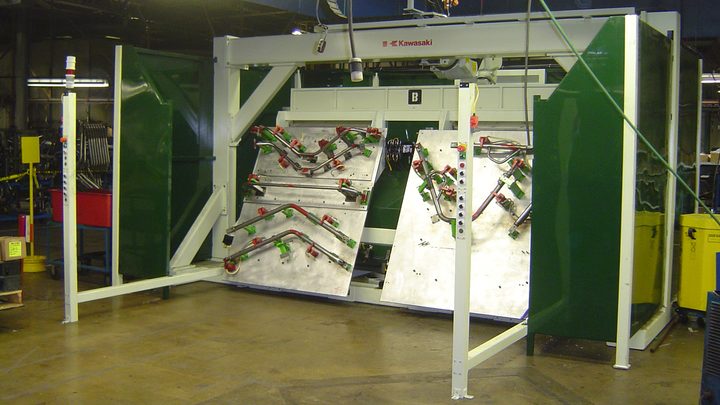 SOLUTION
Four robotic arc welding cells specialize in welding different parts
One "Battle Bot" cell that welds the entire ATV or four-wheeler vehicle frame
One "Kneeling Easel" cell welds cumbersome cab frames
KMM needed a flexible solution for welding many parts as production needs and product lines evolve. To do this, KMM developed five cells using Kawasaki R series and F series robots to weld different components of the ATV and four-wheeler frames. Four of the five cells (Type 1, Type 2, Type 3 and Kneeling Easel cells) weld parts ranging in size. Once complete, these parts are fed into the "Battle Bot" cell, which welds the entire vehicle body.
The Type 1 cell welds small parts like suspension arms. The Type 2 cell uses a Kawasaki RS010L to welds mid-size parts like seats or front guards as they rotate on a welding table attached to a quick-change fixture. Next up, the Type 3 cell has a 108′ x 52 ' work envelope, making it ideal for welding long parts. Lastly, KMM developed the Kneeling Easel cell to weld large 6 ft. by 6 ft. cab frames, whose cumbersome shape posed an ergonomic challenge for human welders.
RESULTS
80% of all arc welding is done by Kawasaki robots
Manual welds are required for only 20% of work
Human welders double check robots' work or weld difficult-to-access areas
Product inconsistencies have been eliminated due to flexibility and high levels of repeatability in robots
Over 30 years of robotic arc welding, KMM has seen a drastic decrease in chassis distortion and an increase in consistency. The company's reliance on manual welding has decreased, so they can spend more time on manufacturing. Moving forward, KMM continues to add Kawasaki arc welding robots to manufacture thousands of ATV, Mule and Teryx four-wheeler frames.